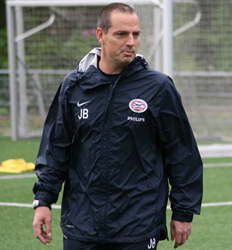 The Dutch School is highly regarded in the U.S and I hope to make a long lasting difference. It always starts at the youth level
NAPA, CA (PRWEB) May 08, 2015
Jefta Bresser is set to join the Napa Soccer Academy in California this summer.
The technical coach, who has been with top professional European soccer clubs, has signed a three-year contract with the Napa Soccer Academy last week. He is considered one of the best technical trainers in Holland. During his 6 years with PSV Eindhoven, has been credited with revolutionizing their academy through his work as a technical coach. In 2011, he was recruited by Coach Martin Jol to the English Premier League to work at Fulham FC for two years before moving to Russia to head the youth development program at FC Zenit, St Petersburg.
Mr. Bresser has been observing the U.S game for many years and has visited California multiple times since 2006. "The time is right. I was there last December for a look. I was very pleased with the potential of the Napa Soccer Academy project," said Bresser. "The Dutch School is highly regarded in the U.S and hope to make a long lasting difference. It always starts at the youth level."
"Soccer in the U.S. is progressing at a steady pace, thanks to the MLS and U.S. Soccer," said Dr. Ramzi Deeik, president of the Napa Soccer Academy. "Unlike the rest of the world, however, most talented American youth players are being developed by volunteers or amateur coaches. We realize the importance of changing the development system especially for underprivileged players and are pleased to bring one of the most experienced youth coaches in Europe to Napa."
The Napa Soccer Academy has partnered with three local clubs: Napa United, Napa Sport and Napa FC. Players from these three clubs will have full access to the Napa Soccer Academy and School programs including the opportunity to enroll in the "No Fee" program for underprivileged players and all advanced team players U-14 and older. "We have been fortunate to partner with the local Napa clubs in pursuit of soccer excellence by creating the proper environment on and off the field for youth players to develop" said the Director of the Napa Soccer Academy, Gabe Rood. "In his new full time position with the Napa Soccer Academy, Mr. Bresser will work very closely with the Napa Soccer Academy advanced players of all ages, coach the Academy team and function as the U-9 to U-12 technical director for our partner club, Napa United," he added.