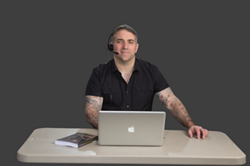 This is an excellent opportunity for business owners to learn how they can build a team that gives them the freedom to work on their business and not in it.
East Brunswick, N.J. (PRWEB) May 08, 2015
Mike Agugliaro, ServiceKey founder and co-owner of successful home service business, Gold Medal Service, will host "Fastest Way to Recruit 'A' Players," a complimentary teleseminar for HVAC, plumbing and electrical service industry business owners on Wednesday, May 13 at 4:00 p.m. EST.
"As a service business owner, I know how important it is to have a solid team in place so that you can break those barriers holding you back from growth and success," said Agugliaro. "Identifying the characteristics of your perfect employee and recruiting them can be difficult to master, but this teleseminar will give you the tools you need to build a solid team, achieve your goals, and regain your freedom."
As the co-owner of a transformative service business, Agugliaro pulls from his experiences of turning a less than $1 million company into a $24 million empire in an effort to mentor business owners in similar industries. During the hour-long teleseminar, attendees will be taught how to better the staffing of any service business with easy to implement tools and strategies. Agugliaro will discuss how to pinpoint the characteristics of an ideal employee, strategies for training current employees, as well as how to build a great team. Attendees will also be able to participate in a discussion portion to ask any follow up questions.
"This is an excellent opportunity for business owners to learn how they can build a team that gives them the freedom to work on their business and not in it," said Agugliaro. "I want you to have the knowledge needed to take action now in order to gain massive wealth and achieve market domination."
Agugliaro's experience goes beyond his coaching business and the daily operation of New Jersey's leading home service business. He is also author of the recently released book, "The Secrets of Business Mastery," where he outlines his market domination strategy, as well as publisher of Home ServiceMAX magazine, a free online resource written by and for service business industry professionals. Agugliaro also hosts a unique weekly podcast designed to offer listeners expert insight into how to operate any business beyond expectations of customer satisfaction and excellence.
To find out more about Agugliaro's ServiceKey business mastery offerings and to register for the upcoming teleseminar, visit http://secretsofbusinessmastery.com/teleseminars/.
About ServiceKey
ServiceKey is a business consulting and mentoring firm, providing tested and proven methods to defeat the roadblocks that prevent small to mid-sized businesses from achieving their ultimate success. By performing a meticulous business audit, ServiceKey targets the specific areas each business needs to address, eliminate, enhance or add in order to reach their business goals and attain what every business owner wants in the end: financial independence. For more information about ServiceKey, visit http://www.secretsofbusinessmastery.com or call Mike Agugliaro at 732-513-8601.
###
For additional information, contact:
Heather Ripley
Ripley PR
hripley (at) ripleypr (dot) com
865-977-1973