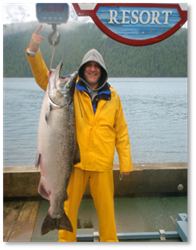 Ketchikan, Alaska (PRWEB) May 07, 2015
Home to the best salt water sport fishing in Southeast Alaska, Waterfall Resort is excited to share that Alaska Department of Fish and Game has renewed 2014's increased fishing limits for king salmon in the region. The newly announced limits mean nonresident guests at Waterfall Resort can keep up to two king salmon per day during peak season in June, doubling the allowance from earlier years. In July and August, the daily limit is one king salmon for nonresident anglers. The annual limit for king salmon is six in total per person.
"Based on extensive studies and collaboration with the Pacific Salmon Commission, the area around Waterfall Resort is seeing some of the highest limits for king salmon harvest in years," said Ken Dole, Managing Partner of the Waterfall Group which manages the resort. "All indications are that king salmon fishing is going to be fantastic this summer!"
Combine these abundant king salmon limits with the opportunity to land trophy-size silver salmon (coho), halibut, lingcod, yelloweye and more than twenty other varieties of rockfish, and it's no wonder why guests bring home an average of 75 pounds of fillets and custom cuts after each trip. In addition to action-packed sport fishing excursions, jaw-dropping wildlife sightings include humpback whales, orcas, otters, bald eagles, and more. Following a day of fishing, guests unwind and swap fishing tales at the Resort's own Lagoon Saloon, and experience freshly prepared comfort food and hearty Alaskan fare in the panoramic Dining Room with scenic views of the Ulloa Channel.
Guests looking to capitalize on these plentiful limits can catch the adventure with a variety of packages at Waterfall Resort including the Summer Solstice Photography Workshop, June 15-18, and Dads and Grads Days, June 21-24.
For availability and more details on special June events, call 800.544.5125 or visit http://www.WaterfallResort.com.
###
About The Waterfall Group
Leaders in adventure hospitality management on land, on the water and in the air, The Waterfall Group delivers extraordinary outdoor lifestyle experiences featuring unique and scenic destinations, marine and aviation expertise, satisfying local cuisine, easy travel and warm, friendly customer service. Founded in 1980, The Waterfall Group markets, operates and supports multiple lines of business nationally from all-inclusive Alaska sport fishing lodges to sea plane tours in the Florida Keys.