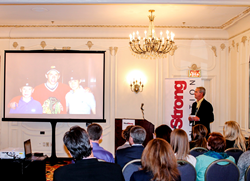 We are honored to have Patrick Kane as a HearStrong Ambassador.
Syracuse, NY (PRWEB) May 08, 2015
In the midst of a Stanley Cup playoff run, Chicago Blackhawk's star Patrick Kane made the time to stand up for hearing loss awareness—a cause that's close to his heart.
During a special ceremony in Chicago on April 17, Kane was recognized as a HearStrong Ambassador by the HearStrong Foundation for his determination to celebrate his cousin, Brendan Kane, for overcoming his hearing loss to achieve his personal, academic, and athletic goals.
While Patrick was unable to attend the ceremony in person, he surprised his cousin with a heartfelt video message.
Currently one of the NHL's leading scorers, Kane was selected by the Chicago Blackhawks as the first overall pick in the 2007 NHL Entry Draft. Kane has won two Stanley Cups with the Blackhawks, the first in 2010 (during which he scored the game-winning goal in overtime) and the second in 2013. For his standout performance during the 2013 Stanley Cup playoffs, scoring 19 points in 23 games, Kane was awarded the Conn Smythe Trophy for the most valuable player.
"We are honored to have Patrick as a HearStrong Ambassador," said Ed Keller, founder and president of the HearStrong Foundation. "His commitment to empowering his cousin and others with hearing loss to take control of their lives will truly impact our mission to reach the more than 30 million Americans with untreated hearing loss."
About the HearStrong Foundation:
The HearStrong Foundation is a 501(c)(3) not-for-profit organization that seeks to shatter the stereotypes surrounding hearing loss and its advanced solutions by honoring the accomplishments of those who have overcome hearing loss and inspire others to do the same. Supported by the dedication of EarQ providers, the foundation is a worldwide advocate for hearing loss awareness, education and support. For more information about the foundation, or to nominate a HearStrong Champion, please visit hearstrong.org or contact:
info(at)hearstrong(dot)org
Like us on Facebook
Follow us on Twitter