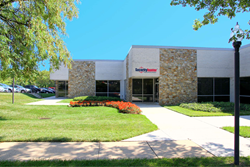 Securityhunter- the fastest growing integrator, now with the fastest runner
Baltimore, MD (PRWEB) May 11, 2015
Securityhunter has a fleet footed runner on its team named Dave Orlik! At this year's International Security Conference & Exposition (ISC West) in beautiful Las Vegas, Nevada, 363 conference attendees participated in the Security 5K/2K, a 5 Kilometer run/2kilometer walk for success and for supporting children in crisis around the world. Dave Orlik of Securityhunter, Inc. placed at number 29 out of 363 runners, and scored first place in the 51+ age group; Dave is 52 years old. Dave ran the 5 K race in a mere 21 minutes and 27.1 seconds. Securityhunter is very proud of his success. Dave is a senior security engineer at Securityhunter, a security integration company operating in the Federal space, where he works the way he runs—technically accurate and fast!
Dave Orlik is an avid runner, and has completed over 26 half marathons, 16 marathons (including Boston in 2013 and 2015), and 10 trail ultramarathons (including two fifty-milers) as well as duathlons and triathlons, sprints and full Ironman competitions. For the past 4 years, he has used his talents to volunteer as a pacer for several distance events - including marathons and 100-miler trail runs, and is a Road Runners Club of America (RRCA) certified running coach. Dave has been on the podium several times and was excited to represent Securityhunter at ISC West 2015 Security 5K with a 1st place win in the 51 and older age group category. Dave's wife, Janice, also a runner, ran in the ISC West 5K race as well. Dave is now setting his sights on Ironman Maryland in October.
Proceeds raised from the ISC West Security 5K/2K race support Mission 500, a security industry based organization which in turn funds World Vision; World Vision is a non-profit humanitarian organization that supports children in crisis around the world.
Dave enjoyed racing at the ISC West Security 5K. As Dave says about running and working at Securityhunter, "Securityhunter- the fastest growing integrator, now with the fastest runner."