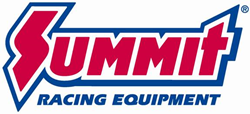 Tallmadge, OH (PRWEB) May 14, 2015
Street rod enthusiasts can get that '50s vibe with a new Edelbrock Vintage Intake Manifold and Carburetor Kit. Available for flathead Ford V8, small Ford, and small Chevy in 2- and 3-carburetor configurations, the kits include the correct throttle linkage to eliminate a lot of the installation and tuning hassle associated with a multi-carburetor setup.
PowerNation TV's Engine Power built up a Ford flathead V8 using an Edelbrock Vintage Manifold and Carburetor Kit. On the dyno, the engine made 159 horsepower and 253 lbs.-ft. of torque—and PowerNation TV's Detroit Muscle guys wasted no time in snatching up the motor to put it into their 1949 Ford project dubbed "Banana Split." Watch the full episode here.
Triple-deuce Vintage Manfold and Carburetor kits benefit from Edelbrock's exclusive progressive throttle linkage, which is based on the original design from Vic Edelbrock Sr., the father of flathead Ford tuning. There's also a 6-carburetor intake manifold kit available for the small Chevy. Edelbrock makes fuel distribution blocks and fuel log kits that work perfectly with these manifolds, available separately.
Summit Racing Equipment
http://www.SummitRacing.com
1-800-230-3030