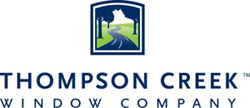 "Manufacturing our own windows is a key competitive differentiator for Thompson Creek Window Company. We eliminate the middle-man and deliver value directly to our customers by selling, manufacturing and installing our windows - Rick Wuest, CEO
Lanham, Maryland (PRWEB) May 08, 2015
For the 6th year in a row, Thompson Creek Window Company is included in Window & Door's annual list of North America's largest manufacturers of residential windows, doors and/or skylights. The annual rankings are based on sales volume.
Thompson Creek Window Company has recently announced plans to build a new manufacturing facility in Upper Marlboro, Maryland which will triple the output of current window production. The new 117,000 square foot window manufacturing facility will contain a Research and Development Laboratory and increased training space. The project is expected to be completed in the spring of 2016.
"Manufacturing our own windows is a key competitive differentiator for Thompson Creek Window Company. We eliminate the middle-man and deliver value directly to our customers by selling, manufacturing and installing our windows. This national level recognition - for our regional success - is a testament to Thompson Creek's superior products and installation along with the best customer experience in our industry, which we create every day," said Rick Wuest, President and CEO, Thompson Creek Window Company. "I am proud of the recognition earned by our top notch team members for the work they do every day to delight our customers and make them house proud."
For a complete list of all winners, visit The Top 100 Manufacturers of 2015.
About Thompson Creek
The Thompson Creek Window Company is a privately owned and family-operated manufacturer and installer of energy-efficient home improvement replacement products. Founded in 1980, Thompson Creek Window Company began as a manufacturer of energy-efficient, maintenance-free vinyl windows. Since that time, Thompson Creek Window Company has evolved into one of the leading specialty home improvement contracting companies in the nation. The company's product mix includes replacement windows and doors and a clog-free gutter system. Thompson Creek Window Company is headquartered in Lanham, Maryland with an 80,000 square-foot manufacturing facility in Landover, Maryland. Thompson Creek employs over 400 people in the Washington D.C. region.