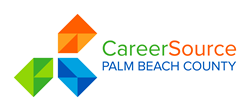 Finding the right opportunity after completing your education is a major step forward to develop the skills, confidence and experience required to be successful in a career."
West Palm Beach, Florida (PRWEB) May 07, 2015
Springtime brings final exams and graduation events for thousands of Palm Beach County high school and college students. It's also the time to plan and begin a search for employment.
"Finding the right opportunity after completing your education is a major step forward to develop the skills, confidence and experience required to be successful in a new career. Applications for the upcoming work readiness and paid internship program are available online for eligible youth ages 17-21, through Friday, May 8th. In addition, we offer these tips for all young adults entering the job market," said Holly Carson, director of youth services for CareerSource Palm Beach County.
Tip #1 - Start now! At any computer from home, school or the library, register in the Employ Florida Marketplace at http://www.employflorida.com. Search for local businesses that are hiring and the types of job openings available, set up a dashboard and even set jobs alerts that are texted to your smart phone. The Conference Board, Help Wanted Online reports there are currently 21,325 (full and part-time, temporary and permanent) job openings advertised in Palm Beach County. Need help? Visit our West Palm and Belle Glade Career Centers for job search assistance at no cost. More information is available at http://www.careersourcepbc.com.
Tip #2 – Know thyself. You will need to prepare to comfortably respond to questions about your skills, volunteer experience and education. Visit http://www.employflorida.com to access free assessments to help you clearly define your skills; determine the types of work you might enjoy and find occupations that match your strengths and abilities.
Tip #3 – Get to know your potential employers in advance. Don't send your resume to just any company. Choose employers carefully, find out as much as possible from the company website, social media, and search for people you know who are linked to the company page before you apply. Demonstrating your knowledge of the company and how you can help reduce expenses or increase the bottom line is a plus.
Tip #4 – Schedule a wardrobe reboot. If you want to be taken seriously in your job search, you will need to transition your wardrobe from casual classroom attire to a working professional look. Until you understand the dress code of your new employer, you may have to adopt a more formal, traditional style. Wear clean, pressed, well-fitting slacks and dress shirts, or business dresses/skirts and tops with comfortable but sensible shoes when meeting employers. If you need ideas, visit the careersourcepbc.com Virtual Career Center for guidance.
Tip #5 – Interviews are not the place for improvisation. Actors rehearse and athletes train. Appear confident and relaxed by planning your responses to common interview questions. To exude confidence during your interview practice by, writing each question on pieces of paper, mixing them up, selecting them in random order, and answering aloud. Try answering questions while looking in a mirror to get comfortable with your answers without looking at notes. If possible, ask a friend or family member to play interviewer. Another option is to video your "interview" and critique yourself. If you need help, visit CareerSource Palm Beach County's website to access the free online interviewing workshop in the virtual career center.
Tip #6 –Demonstrate your enthusiasm by asking insightful questions. Once you learn about the employer (Tip #3), develop at least two probing questions for the interviewer. Each question should help you learn how you can be successful in the position and help you understand the role you would play in the company. Next, listen carefully to the response and identify opportunities for a follow-up question.
Tip #7 – Thank you letters and notes are necessary. After the interview, it is to your advantage to send a thank you letter. The letter demonstrates that you are eager to work and that you appreciate that the interviewer was willing to invest time away from their business to talk with you. Ask the interviewer when she expects to make a hiring decision, and be sure to follow up to see if the job remains open or if other positions are available.
Tip #8 – Keep learning and growing your skill set. Over a lifetime, earning potential increases if you finish high school, obtain a certification, learn a trade or go to college, or take non-credit classes related to your career. Increasing your skills demonstrates to employers that you are passionate about your career, and you have the ability to follow-through.
Tip #9 – Give back and improve your marketability. Participate in community and charity activities; ask volunteer leaders if they might serve as a future reference. Learn new skills as a volunteer and add those skills to your resume. Often, the other volunteers are a great network of new people that can help you find job leads after they observe your hard work.
Tip #10 – Employment is not the end of the journey! – You are offered the job! Now that your job search is over, it is critical to remain positive and self-motivated. Arrive at work a few minutes early every day. Pay close attention to instructions, ask questions to be sure you understand your assignments and exceed expectations. Hard work pays off!
If you need personalized attention or access to computers for your job search, you are invited to visit CareerSource Palm Beach County at two career centers in West Palm Beach and Belle Glade. Services are provided at no cost and include:

Classes and facilities for job search
Career development/consulting/ placement services
Grants for job training for those who qualify
Talent identifiers and assessments
Programs for persons with disabilities
Priority of service for U.S. military veterans
More information is available at careersourcepbc.com or at our Career Center locations:
-- Central Career Center-3400 Belvedere Road, West Palm Beach, FL 33406; (561) 340-1060
-- West Career Center-1085 S. Main Street, Belle Glade, FL 33430; (561) 829-2040