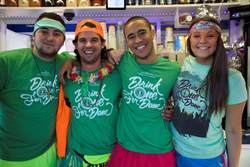 The positive impact that one day can have on individuals and families dealing with ALS is unbelievable.
GRANTS PASS, Ore. (PRWEB) May 08, 2015
On May 1, Dutch Bros. Coffee and customers partnered together, in honor of the late Co-founder Dane Boersma and raised a record breaking $506,658 for the Muscular Dystrophy Association (MDA).
"I never realized or could have predicted the critical impact that we would have today," said Travis Boersma, Dutch Bros. Coffee Co-founder. "To generate half a million dollars in one day is incredible. It is mind boggling that we are able to do that."
Drink One For Dane is an annual event held every May. All 242 Dutch Bros. locations in seven states donate proceeds from this day to MDA, the world's leader in fighting Lou Gehrig's disease, also known as amyotrophic lateral sclerosis (ALS). Dutch Bros. had a record-breaking donation total this year and surpassed last year's by over $154,000 bringing the company's total support to MDA to over $1.77 million.
"On behalf of the Muscular Dystrophy Association and the thousands of local families fighting ALS, we would like to extend an enormous thank you to all of the Dutch Bros. employees and customers for making this year's Drink One for Dane Day such a big success," says Jack Pipkin, MDA Divisional Director. "We have been inspired by the outpouring of support from the entire Dutch Bros. community in honor of Dane."
Dane Boersma was diagnosed with ALS in 2005 and later passed from the disease in 2009. Drink One for Dane allows Dutch Bros. locations to raise funds and awareness for MDA to support ALS research and family support services.
There is no currently no known cure for ALS, a disease that affects the parts of the nervous system that control voluntary muscle movement. Once diagnosed with this disease most people, on average, die within three to five years. To learn more about MDA and ALS, visit mda.org.
"The proceeds raised during this year's Drink One for Dane Day will enable MDA to continue providing invaluable local services for those living with ALS," said Pipkin. "It will help us move even closer to developing effective treatments and, eventually, a cure for this disease."
"Dutch Bros. wants to thank everyone who came out to support and helped us honor Dane by raising awareness for this tremendous cause – cheers to the Wiseman," said Boersma.
###
About Dutch Bros. Coffee
Dutch Bros. Coffee is the country's largest privately held, drive-thru coffee company, with over 240 locations and over 4,000 employees in seven states.
Dutch Bros. serves specialty coffee, smoothies, freezes, teas and a private-label, Dutch Bros. Blue Rebel™ energy drink.
The rich, proprietary coffee blend is handcrafted from start to finish. Every ingredient is measured, every process timed, and every cup perfected.
Known for upbeat baristas and genuinely caring service, Dutch Bros. Coffee was ranked by J.D. Power and Associates as highest in customer satisfaction for two consecutive years in its 2012 and 2013 Specialty Coffee Retailer Satisfaction Reports℠.
With a mission of, "Making a Difference, One Cup at a Time," Dutch Bros. donates over $1 million annually to nonprofit organizations and local causes selected by local owner-operators.
Dutch Bros. Coffee is headquartered in Grants Pass, Ore., where it was founded in 1992 by Dane and Travis Boersma, brothers of Dutch descent.
To learn more about Dutch Bros., visit http://www.dutchbros.com, like Dutch Bros. Coffee on Facebook or follow @DutchBros on Twitter.
FOR MEDIA ONLY
Contact: Jen Wheatley, pr(at)dutchbros(dot)com, 541.226.7787