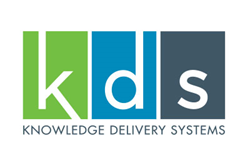 "This recognition speaks volumes about listening to our customers' feedback and building professional development solutions that put the focus back where it belongs - on the growth and development of our teachers," said Alvin Crawford, CEO of KDS
New York, NY (PRWEB) May 08, 2015
Knowledge Delivery Systems (KDS), the leader in strategic and blended professional development for schools and districts, is taking the EdTech and B2B industries by storm with numerous industry awards.
KDS today announced that its Professional Learning Platform (PLP), a centralized professional development hub for educators won an SIIA CODiE Award for Best Professional Learning Solution for Education.
The Software & Information Industry Association (SIIA), the principal trade association for the software and digital content industries, announced KDS as one of 28 CODiE Award winners in the education technology category. An SIIA CODiE Award win for ed tech companies is an especially prestigious honor, as each award winner has been selected by a combination of educators, who act as initial judges by selecting finalists from among all nominees, and SIIA members-company peers, who vote to select the winners from among the finalists.
KDS' Professional Learning Platform is designed to provide structure to the informal, social learning that research shows teachers needs to adopt new practices. With PLP, teachers and leaders engage in ongoing professional collaboration, access trusted content that is searchable and tagged to common teaching and learning frameworks, and take advantage of powerful personalization tools that provide each teacher constantly updated connections to resources, peers, experts, discussions and events that match their personal learning goals and interests.
"It's an honor to be recognized by our peers in the EdTech community at the 2015 CODiE Awards," said Alvin Crawford, CEO of KDS. "This recognition speaks volumes about listening to our customers' feedback and building professional development solutions that take the focus away from teacher accountability and put it back where it belongs - on the growth and development of our teachers."
"SIIA's 2015 Education CODiE Award winners are some of the most innovative, high-impact education products out there," said SIIA Karen Billings, Vice President and Managing Director of the ETIN-SIIA. "We congratulate all of this year's CODiE Award winners, and thank them for the contributions they have made to the education industry."
Details about the winning products can be found at: http://www.siia.net/codies/2015/winners.asp
Additionally last week, KDS was honored with three Global ACE Awards in the Content Marketing and Collateral categories, as well as in the Digital Sales Enablement category.
The Global ACE Awards, presented by the Business Marketing Association of New York City, honor the best and brightest creative in B2B advertising and marketing communications. Called "one of the six best creative awards" in the country by The New York Times, the ACE Awards receive international recognition and get hundreds upon hundreds of entries from all over the world. More information about the awards can be found at: http://www.marketing.org/content/show/id/newyorkcity-global-ace-awards
About Knowledge Delivery Systems
Knowledge Delivery Systems (KDS) is the leading provider of research-based, blended-model strategic professional development solutions for districts, schools, and teachers. KDS was founded nearly 15 years ago to help school districts and states transform professional development to dramatically improve teacher effectiveness and raise student achievement. KDS builds district-wide system solutions and high quality online courses that are developed with the nation's leading education experts and researchers to address educators' most important challenges in the classroom. Today these courses are delivered through KDS' Professional Learning Platform (PLP), which leverages the best of learning communities to make educator learning engaging, convenient and social. For more information, visit: http://www1.kdsi.org
About the SIIA CODiE™ Awards
The SIIA CODiE™ Awards were established in 1986 by the Software & Information Industry Association (SIIA), so that pioneers of the then-nascent software industry could evaluate and honor each other's work. Since then, the CODiE Awards program has carried out the same purpose – to celebrate the software and information industry's finest products and services.
The SIIA CODiE Awards are the industry's only peer-reviewed awards program. The first round review of all nominees is conducted by media, publishing, and information services executives with considerable industry expertise, including members of the industry, analysts, media and bloggers, and bankers and investors. The judges are responsible for selecting the CODiE Awards finalists. SIIA members then vote on the finalist products and scores from both rounds are tabulated to select the winners. For more information about the SIIA CODiE Awards, visit: http://www.siia.net/codies
About SIIA
SIIA is the leading association representing the software and digital content industries. SIIA represents approximately 800 member companies worldwide that develop software and digital information content. SIIA provides global services in government relations, business development, corporate education and intellectual property protection to the leading companies that are setting the pace for the digital age. For more information, visit http://www.siia.net.
About ETIN
The Education Technology Industry Network (ETIN) of SIIA serves and represents more than 200 member companies that provide educational software applications, digital content, online learning services and related technologies across the K-20 sector. The Division shapes and supports the industry by providing leadership, advocacy, business development opportunities and critical market information. For more information on ETIN of SIIA, visit siia.net/etin.
###
Knowledge Delivery Systems contact:
Alyssa Miller, 973.615.1292, amiller(at)ammediaworks(dot)com
SIIA Communications contact:
Allison Bostrom, 202.289.7442, abostrom(at)siia(dot)net