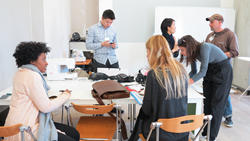 "People with disabilities aren't defined by their disability; why should their clothes be?"
Cambridge, MA (PRWEB) May 08, 2015
"People with disabilities aren't defined by their disability; why should their clothes be?"
Open Style Lab is a non-profit organization based at the Massachusetts Institute of Technology (MIT), which lives out its mission to make accessible apparel for people of all abilities through a two-pronged approach: multidisciplinary project-based educational programs and the development of marketable designs from their educational programs.
Li Edelkoort, a Dutch trend forecaster, once said, "Fashion education should be, amongst other things, the industrial design of fashion; fashion as highly industrial design". Fashion design curricula at top schools rarely teach ergonomics, while engineering and rehabilitation medicine programs rarely teach the importance of aesthetics. This is where OSL comes in.
Each summer, Open Style Lab invites students from engineering, design, and rehabilitation medicine fields, hailing from institutions such as Parsons, RISD, MIT, Tufts and BU, to come to MIT for a 10-week educational programs. The students team up to create usable yet stylish clothing solutions with and for clients with disabilities. Alongside a hands-on, user-centered design experience, students participate in workshops and receive mentorship from fashion industry professionals such as Reebok, New Balance, Eileen Fisher, and Magna Ready. The program was funded by several grants at MIT, and received sponsorships from Eileen Fisher and Danen Venture Capital. At the end of the program, students showcase their prototypes at MIT, and have the opportunity to present their designs publicly at the Museum of Science. OSL was invited to present at New York Fashion Week and Boston Fashion Week; the program has also been highlighted on media outlets including the Boston Globe, Boston Magazine, New England Cable News (NECN), and was recognized as one of BostInno's 50 on Fire companies.
Open Style Lab sustained their momentum by refining clothing solutions from their summer program, and are proud to introduce their first retail product: The Rayn Jacket.
The Rayn Jacket is a waterproof hoodie that features an easily deployable flap that protects the lap from the rain. The design was inspired by wheelchair users, but its inclusive design makes it appealing to cyclists, campers, moped riders, sport spectators and commuters alike. Open Style Lab has partnered with Betabrand to make the Rayn Jacket available to the public, which will enter its crowdfunding phase on May 13th.
Dr. Grace Teo, Co-Founder and CEO of Open Style Lab notes, "The Rayn Jacket embodies the essence of Open Style Lab's mission: the creation of accessible fashion that fits a whole range of bodies and abilities. Thus, it is very fitting as our commercial debut, and our contribution to a more inclusive, beautiful world."
Open Style Lab has continued expanding its educational reach by partnering with RogLab, a makerspace in Slovenia, to host the Design (Dis)Ability workshop. Professional engineers and designers participated in online lectures, then gathered in Ljubljana for a week of client fittings and rapid prototyping. A heated jacket that was developed at this workshop, along with the Rayn Jacket, opened the fashion show for DisArt, the first conference to focus on disability and the arts.
Open Style Lab will be hosting their flagship educational program at MIT this summer, and continually seeks partnerships with established fashion brands and sponsors.
For more information, go to openstylelab.org ; For inquiries, email hello(at)openstylelab(dot)org