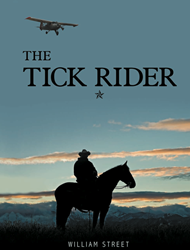 Readers are left with a gripping message that while violence and terror reign, love has a power to overcome.
(PRWEB) May 11, 2015
The U.S. Border Patrol is not the only entity that guards the Mexican-American boundaries. There is another group of patrolmen, and they are not looking for people—they are searching for ticks.
"The Tick Rider" follows the story of a Texas cowboy whose job is to round up tick-infested Mexican livestock that have crossed the river and threaten cattle herds with Texas Fever. Guarding the buffer zone between Mexico and America, tick rider Jack Leavitt encounters wild cattle, illegal immigrants and, suddenly, a Mexican ranchero's beautiful daughter.
"This is a love story set mostly along the Rio Grande, where the obstacles faced by the lovers are complicated by the cartel wars going on in Mexico," author William Street said. "I tried to find a story that would be within my own experiences, and thus ended up one that shows how disparate persons, not knowing one another, are thrown together by their life paths."
Street, former pilot, rancher and commercial mushroom grower, lived part-time and traveled extensively in Mexico for twenty years. After experiencing a government that, he says, has a history of corruption, Street wanted to give a sympathetic portrayal of Mexicans seeking opportunity in America.
Not only does Street reveal true ranch life, but he also delves into the common practices, competitive pressures and context surrounding the drug cartel wars that climax over the Rio Grande. He stresses that hard decisions are made to protect the ones you love.
It is at the border where characters' lives intersect and change dramatically due to the cartel's influence. Readers are left with a gripping message that while violence and terror rein, love has a power to overcome.
The Tick Rider
By William Street
ISBN: 978-1-4917-5502-0
Available in softcover, hardcover, e-book
Available on Amazon, Barnes & Noble and iUniverse online stores
About the Author
Former pilot and rancher, William Street is a retired businessman who owned and operated his own commercial mushroom packing company. Prior to that, Street managed a commercial cattle ranch in British Columbia, packed horses for hunting outfits in Alaska and spent two winters in Mexico managing his produce-buying operation. Street received a Bachelor's at University of Washington and resides in Lakewood, Washington, where he volunteers at the Tacoma Art Museum and plans to write a second novel.
# # #