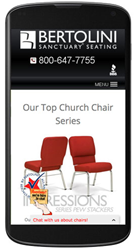 Chino, CA (PRWEB) May 08, 2015
Bertolini Sanctuary® Seating announced today the launch of its new mobile friendly website at http://www.sanctuaryseating.com. The new website was redesigned to provide a layout with simplicity, easy to use, and accessibility to mobile, tablet and desktop users. This gives their customers the flexibility to view the site anywhere, at anytime. Bertolini's commitment of 100% customer satisfaction goes beyond building church chairs with catering to their customer's needs. Their new mobile friendly website will be a tool for fulfilling Bertolini's mission and helping them provide better resources for their customers. With an effortless new look and enhanced navigation experience, they offer a great range of resourceful tools and educational information.
In order to give the end user a quick access to the information that they are searching for, Bertolini Sanctuary® Seating's website menus are streamed. The menus include Church Chairs, Church Furniture, the Bertolini Team and The Latest News. Each section will direct the customer to the information they are seeking. Aside from the refreshing layout and display, the mobile friendly website offers a variety of useful tools, such as, build your own church chair, fabric swatch studio, and how to videos. All of these features are also available and accessible to mobile and tablet users.
In addition to the Bertolini Sanctuary® Seating website, their e-commerce church chair store buy.sanctuaryseating.com is also mobile friendly and easy to navigate and order right from your fingertips. The e-commerce church chair store offers in stock church chairs, multi purpose seating and accessories for purchase. It is also equipped with easy to follow video and downloadable instructions on how to install the chair options that are purchased.
Bertolini Sanctuary® Seating is the most trusted name in church chairs and seating. Three generations of furniture building, over 50 years in USA based stackable chair manufacturing, and a heart to serve the needs of the local church. They are the design leaders in the use of ergonomically correct chair design and its Flex fit seat design technology. Their chairs are light and strong. Their expertise in the manufacture of quality stackable seating and commitment to superior customer service wins the appreciation of congregations worldwide. To find out more, visit http://www.sanctuaryseating.com.