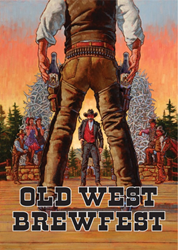 Old West Days is a fun opportunity for locals and visitors alike to experience our Wild West side - including more recent updates such as the craft beer fest.
Jackson Hole, Wyo. (PRWEB) May 11, 2015
Craft beer lovers will flock to Jackson, Wyo., over Memorial Day Weekend for the Old West Brew Fest, one of a variety of activities on offer during Jackson Hole's 34th annual Old West Days, May 22 - 25, 2015. More than a dozen regional craft breweries will gather under one tent on Jackson Town Square from 11 a.m. – 5 p.m. on May 23, offering their best beers to tasters and asking for their vote, with the coveted Golden Boot Award going to the brew with the most votes. The Brew Fest follows the Old West Days parade, one of the last and best horse-drawn parades in the country beginning at 10 a.m. on the 23rd, with a chance to see – in addition to the horses – mountain men, vintage vehicles, covered wagons and Jackson Hole's legendary gathering of gunslingers.
The Old West Brew Fest has become one of Old West Days' biggest attractions, offering free entrance and the chance to purchase wooden nickels – each worth one taste of beer – for $1/token. A commemorative boot mug can be purchased for $5 and past attendees are also encouraged to bring their vintage Brew Fest mugs to help reduce waste. Special $10 and $20 packages are also available.
Commonly referred to as "The Last of the Old West," Jackson Hole, Wyo., plays up its Western heritage during the four-day Old West Days event, which offers a wide variety of experiential travel activities that are fun for families and open to all, making it a great road trip for the long weekend. Additional Old West Days fun includes a chuck wagon dinner with cowboy songs and a Mountain Men Rendezvous and Traders' Row with costumed mountain men selling their wares and competing with the bow and arrow and hawk and knife. Visitors can further step back into the past with a free walking tour sponsored by the Jackson Hole Historical Society and Museum that will stroll the wooden sidewalks of the historic downtown pointing out significant sites and buildings.
"While Jackson has become a world-class resort town known for its sophisticated cultural attractions, cuisine, and proximity to outdoor adventure and national parks, it remains an authentically Western town as well, with an ongoing ranching tradition and a rich history that dates back to its early days as a trading center for mountain men," says Maureen Murphy, director of special events for the Jackson Hole Chamber of Commerce, which organizes the event. "Old West Days is a fun opportunity for locals and visitors alike to experience our Wild West side – including more recent updates such as the craft beer fest."
A live Jackson Hole Shootout dramatization takes place Saturday evening along with a Street Dance under the tent on the Jackson Town Square and the Jackson Hole Rodeo at the Teton County Fairgrounds. Sunday offers a special Wyoming Cowboy Church service in a tent and Monday activities include a special American Legion Memorial Service.
About Jackson Hole Old West Days:
Conveniently located just 20 minutes from the Jackson Hole Airport, Jackson, Wyo., is served by major airlines including Delta, United, American and SkyWest. Reservation information for Jackson's numerous hotels and schedules for events and activities year-round may be found at http://www.jacksonholechamber.com. A full calendar of activities going on during Jackson Hole's four-day 34th annual Old West Days is available at http://www.jacksonholechamber.com/old_west_days/.
Media Contact: Amy Stark, WordenGroup Strategic Public Relations, amy(at)wordenpr(dot).com, 307.734.5335