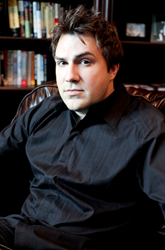 One of the biggest benefits of the Internet of Things is the fact that it allows real-time collection of data in almost any industry or for almost any purpose
Scottsdale, AZ (PRWEB) May 16, 2015
The Internet of Things is affecting every area of life and business, including the trucking industry, as reported in a recent article on the Wall Street Journal. Jason Hope, futurist and tech guru, indicates that advancements in data collection in the trucking industry using the Internet of Things shows yet another way that these technology changes are changing the future permanently.
According to the April 29 article entitled "Internet of Things Reaches Into the Trucking Business," which Erica E. Phillips wrote, Saia LTL Freight Inc recently enlisted the help of Intel Corp. technology in its 3,000-truck fleet. Using sensors created and enabled by Intel, Saia's vehicles are not reporting maintenance needs, fuel usage, driver behavior and other valuable metrics in real-time.
Prior to this development, similar data was collected by Saia, but only intermittently and rarely in real-time. Maintenance professionals may have downloaded information from on-board sensors when trucks came in for maintenance, but real-time data was lacking, so fleet managers could not make informed decisions quickly to improve performance and safety. Fleet managers could not get information about vehicles until drivers returned from a run. Now, information is available whenever it is needed.
"One of the biggest benefits of the Internet of Things is the fact that it allows real-time collection of data in almost any industry or for almost any purpose," says Jason Hope. "In the trucking industry, telematics systems can send real-time data to fleet managers, allowing them to track driver locations and behavior, monitor trucks for maintenance needs and streamline operations to save money and frustration."
Intel is not the only company offering Internet of Things technology in the trucking industry. In fact, telematics offering GPS and real-time analytics are becoming a vital part of the modern trucking fleet.
About Jason Hope
Jason Hope resides in Arizona and uses his wealth and resources to promote research into the development of anti-aging technologies and the growth of the Internet of Things. He is a philanthropist and entrepreneur who has a clear understanding of the impact of technology on modern life. Learn more about his work at http://www.jasonhope.com.