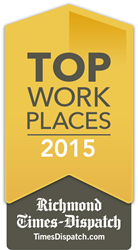 Richmond, Va. (PRWEB) May 08, 2015
Hamilton Beach Brands, Inc., a leader in small appliances, is pleased to announce it was selected as the number one workplace among mid-sized companies in the Richmond area. The Sterling Workplace award was presented to Hamilton Beach last evening at a ceremony honoring Richmond's Top Workplaces.
The Top Workplaces are based solely on employee feedback through an objective survey where they scored the company on work environment and overall job satisfaction. As a result of the anonymous survey, Hamilton Beach rose to the top to win this award.
Hamilton Beach Brands employees work together to build a great company where extremely talented people want to be and where employees are excited to go to work. The global culture is rooted in "Good Thinking," which is exemplified in the company's passion for its products.
"Hamilton Beach is honored to be recognized as a Top Workplace, and first place recipient of the Sterling Workplace award," said Greg Trepp, president and CEO, Hamilton Beach Brands, Inc.
"We encourage a culture where each and every employee can have a positive impact on our organization and our products. Our employees rank Hamilton Beach as a top employer because of our dedication to collaboration, innovation and employee wellness. Because of our commitment to nurture and develop our people, the average tenure of U.S.-based Hamilton Beach employees is 14 years – which is far greater than the national average."
Hamilton Beach Brands, Inc. is headquartered in the Innsbrook office park in Glen Allen and employs 600 people worldwide.
About Hamilton Beach Brands, Inc.
Hamilton Beach Brands, Inc. is a leading designer, marketer and distributor of small electric household and specialty housewares appliances, as well as commercial products for restaurants, bars and hotels. Hamilton Beach and Weston Brands products can be found in households and business throughout the world. Hamilton Beach Brands, Inc. is Headquartered in Richmond, Virginia. Information on innovative Hamilton Beach®, Proctor Silex®, TrueAir®, Hamilton Beach® Commercial and Weston Brands products can be found online at http://www.hamiltonbeach.com, http://www.proctorsilex.com, http://www.westonproducts.com and http://www.commercial.hamiltonbeach.com.
###