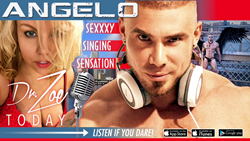 New York, NY (PRWEB) May 07, 2015
ANGELO GARCIA: Whether he's known from his days in Menudo or as the strikingly good looking, half naked, tattooed singing man in his many viral videos that sweep the social media world, everyone has seen Angelo at one point or another but there is no way anyone was prepared for the emotional, tell-all interview that took place Thursday night on Dr. Zoe Today.
In order to fully understand Angelo, all judgment must first be cast aside. The highly controversial, openly bisexual man adores his fans. He has been seen performing everything from a rendition of Lenny Kravitz's "American Woman" worthy of a Magic Mike scene to The Little Mermaid's "Part of Your World" for the kids. Angelo may look like a bulging mass of muscle on the outside but inside is a sensitive, caring being... holding a gut-wrenching story.
Dr. Zoe Shuster, host of Dr. Zoe Today is known for creating a natural atmosphere on the air. Due to her experience as "The Confidential Coach" to an exclusive roster of heavy-hitters, her celebrity guests always share more exclusive and controversial topics on Dr. Zoe Today. This week was no exception.
Angelo Garcia was just shy of 11 years old when he auditioned for a spot in Menudo after seeing a television commercial in Puerto Rico during a family vacation. Traveling the globe and performing alongside fellow band member, Ricky Martin, some may simply say "the rest is history", however the rule that should be applied in this situation is you never know what goes on behind closed doors. Angelo shared shocking intimate details about his time with the band during his interview on Dr. Zoe Today. After his fame with the band, he could never live a normal childhood. He recalls on the show the devastating bullying that took place not only as a child but that has continued and remained a constant even now in his adulthood, hence Angelo's new project about bullying and single soon to be released, "Be Free."
Many other topics were discussed during this interview including Angelo Garcia's current projects and the story behind his latest single, "Delusions of Grandeur". Of course Angelo even helped Dr. Zoe answer listener's questions on love, sex and relationships during the "Ask Dr. Zoe" segment of the show.
The show aired Thursday night, May 7th at 9ET/8CT/6PT. It will be featured throughout the week and will continue to be available for listening in the free "Dr. Zoe Today" app as well as at the show's website DrZoeToday.com