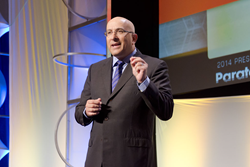 "We go to great lengths to ensure our conference is innovative and impactful..."
Palm Springs, Florida (PRWEB) June 03, 2015
Pharmacy Development Services (PDS), the leading provider of business performance development and coaching for independent pharmacy owners, today announced early bird registration is now open for the PDS 2016 Together Toward Tomorrow Conference. The 12th annual event is scheduled for February 24-27, 2016 at the Renaissance Hotel in Orlando, Florida and 100 leading exhibitors will be onsite showcasing their products and hosting demonstrations relevant to independent pharmacies. To learn more or to register for the conference, please visit http://www.pdsconference.com/register.
For a limited time, those who sign up will receive the best ticket value pricing, the most options for accommodations and an additional bonus. This year early registrants will receive full access to an exclusive library of PDS video content showcasing speakers from last year's event. These elite business and motivational speakers cover a wide variety of topics ranging from Technology and Business Security to Wealth Management and Team Engagement. Once again, an impressive line-up of professional business and motivational speakers will be announced for 2016, closer to the event.
"Each year our CEO, Dan Benamoz, challenges us with bringing together the most compelling line-up of industry and business thought leaders and vendors nationwide," said Kelley Babcock, Pharmacy Development Services, chief operating officer. "We go to great lengths to ensure our conference is innovative and impactful and provides attendees with the business knowledge they need to positively impact and grow their pharmacies."
PDS was founded in 1998 when entrepreneur Dan Benamoz, R.Ph, recognized the need for a new approach to his business and saw the benefit of professional coaching and networking with other like-minded independent pharmacy owners. 12 years ago, Benamoz held the very first PDS Conference intent to help other pharmacy owners thrive and grow their independent pharmacy businesses using his unique non-clinical approach.
"Every year I get a few cutting edge ideas to boost my pharmacy margins, increase my team culture, and improve as a pharmacist, a leader, an owner, and a person," said Chris Cornelison, Owner, Iuka Discount Drugs. "I think it is year in and year out the best conference in our industry, and I wouldn't consider missing it."
About Pharmacy Development Services (PDS)
Pharmacy Development Services (PDS), founded by president and CEO, Dan Benamoz, R.Ph, in 1998, is the leading membership-based service provider of top-tier business education for independent pharmacy owners nationwide. Through elite business coaching, customized training and easy-to-implement programming, PDS provides its members with innovative and effective business solutions to help them achieve growth, sustainability and profitability. For more information about Pharmacy Development Services and its events visit: http://www.pharmacyowners.com or call us at: 1-800-987-7386.