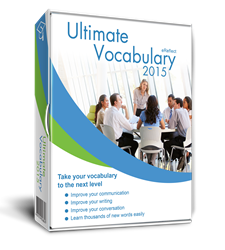 Compelling headlines are those that pique a reader's interest through a number of ways: shock, surprise, fear, and/or humor.
New York City, NY (PRWEB) May 08, 2015
eReflect reports that Ultimate Vocabulary™ has published an informative article on how to create compelling headlines for online content. The latest blog post by Ultimate Vocabulary™ shares valuable insights on ways to make a headline grab a reader's attention. The post also gives details about how writers can use the same strategy to make their headlines outstanding, every time.
Ultimate Vocabulary™ begins by noting that headlines are the one thing readers read before deciding whether the rest of the post is worth their time. To help readers improve their headline's effectiveness, the vocabulary software recommends making those headlines irresistible. The two ways this can be done, says the editor, is by crafting a headline that's compelling and by making sure it's accurate.
Compelling headlines are those that pique a reader's interest through a number of ways: shock, surprise, fear, and/or humor. Any writing device that helps the reader immediately get hooked and engaged works to engage their attention.
While it is important to craft a whimsical headline, however, it should make sense if taken out of context, the editor cautions would-be headline writers. Readers are more likely to come across the headline alone on sites like Facebook, Pinterest, Twitter, and in RSS feeds. That's why the headline needs to be understandable in and of itself, and writers need to balance this against the elements that make it alluring, the editor at Ultimate Vocabulary™ says.
The second requirement for a compelling headline is accuracy, the Ultimate Vocabulary™ editor notes. Readers are impatient and wary of misleading headlines that are seen as merely "click baiting" without any other purpose. Readers need to be respected and not betrayed for the sake of more clicks, shares, and likes, the Ultimate Vocabulary™ editor asserts.
The editor urges people to resist writing headlines that mislead and betray the trust given to the writer or brand. This is an important practice that ensures the authority and integrity of the represented brand or service remains intact.
Ultimate Vocabulary™ helps people of all ages improve vocabulary competence through fun activities and games. The editor recommends using the power of vocabulary words in headlines, such as "you" and "your," words that increase a sense of immediacy and ownership. Two other words that work well are "why" and "how" in questions, which help draw readers into the discussion.
***********
For more information on how you can benefit from Ultimate Vocabulary, please visit its official website, http://www.ultimatevocabulary.com.
About Ultimate Vocabulary™
Ultimate Vocabulary provides a proven and powerful platform, built to improve anyone's vocabulary.
The interactive self-improvement system provides more learning tools than any other program on the market, as well as more information on words.
The Ultimate Vocabulary software provides each and every user with a personal computer tutor. Providing a step-by-step guide to learning a powerful vocabulary, Ultimate Vocabulary is the learning tool everyone can benefit from.
Of course, the software is also backed by eReflect's iron-clad money back guarantee.