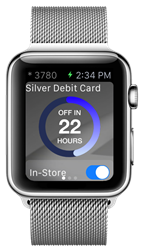 support for the latest technology provides our customers and partners with the ability to rapidly provision innovative solutions for their cardholders
WANCHAI, HONG KONG (PRWEB UK) 8 May 2015
Tranwall, pioneers in payment card control technology, are proud to announce the extension of their card control interfaces to the smart watch. Previously available for smart phones and legacy phones, the functionality is now also available on the Apple Watch and Android Wear platforms. The functionality is available to all partners and customers globally, allowing for integration into their own apps.
"Our support for the Apple Watch and Android Wear platforms is part of our continuous drive to empower consumers to secure and enable their cards anywhere and at any time", said Aurelien Duarte, CEO of Tranwall. "Tranwall's support for the latest technology provides our customers and partners with the ability to rapidly provision innovative solutions for their cardholders".
Smart watch support allows cardholders to receive interactive notifications, alerts and to enable or disable their cards directly from their watch. Advanced control is possible from the watch, allowing for specific transaction types such as cash withdrawals, e-commerce, foreign use, mail and telephone, or in-store transactions to be allowed or blocked. Interactive notifications ensure that the cardholder can enable their card when a transaction may have been incorrectly declined, and to make cardholders aware of all transactions that are authorised or blocked.
Cardholders will have access to this technology as soon as their bank or issuer integrate the functionality into their mobile apps.
ABOUT TRANWALL
Tranwall, established in 2011, is focused on creating technologies that address both existing and emerging threats in the global payment industry, with a specific focus on ensuring convenient, effective, scalable and easy to implement solutions. Tranwall is a Hong Kong headquartered company with development teams based in South Africa.