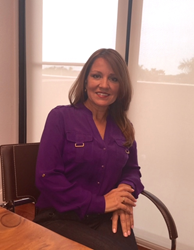 "Curve Commercial welcomes Sandra Perez to our ever-expanding team of experts in commercial business development."
Miramar, Florida (PRWEB) May 18, 2015
Curve Commercial, one of the nation's premier independent trade solutions corporations, announced the hiring of Sandra Perez as the Vice President of Marketing & Business Development. Perez will be latest addition to the growing team of their South Florida office.
Perez brings 25+ years of professional experience in the arena of business development of national and multinational companies to her new role as VP of Marketing & Development at Curve. Equipped with proficient knowledge of businesses of all sizes, Perez brings to Curve an outstanding talent for establishing sales and marketing plans, and increasing revenue and banking solutions.
Highly-regarded and respected in South Florida, Perez has an impeccable reputation as a top level executive known for her determination, dedication and strong skills in business growth, strategy planning and relationship building for businesses of all sizes.
She attended Florida International University where she received her Bachelor's Degree in Finance and Marketing.
"It is my honor and pleasure to join the dynamic Curve Commercial's team," said Perez. "This next chapter in my career affords me with the opportunity to grow professionally and personally within an incredibly innovative company determined to help cross-sector companies flourish and succeed – stay at on top of the growth curve."
"Curve Commercial welcomes Sandra Perez to our ever-expanding team of experts in commercial business development," said Curve Commercial CEO Daryl Hudson. "Perez will play a significant role in our quest for innovative businesses excellence given her extraordinary skillset, remarkable drive and stellar experience."
About Curve Commercial
One of the largest independent trade solutions corporations in the United States, Curve Commercial provides growing corporations across a variety of industries with straightforward and effective solutions that support business expansion. Based in South Florida, Curve Commercial also has branches in Atlanta, Minneapolis and Los Angeles and is currently eyeing expansion into Southeast Asia and South America. Learn more at http://www.curvecommercial.com/.