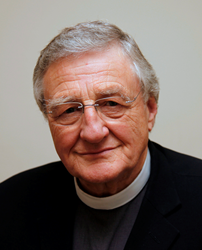 Indianapolis, IN (PRWEB) May 08, 2015
Rev. Dr. Harold Good, widely regarded as one of the world's preeminent thought leaders on peace, justice and reconciliation, will join Frank Thomas, CTS Professor of Homiletics and Director of the Academy of Preaching and Celebration, for "A Sacred Conversation on Race, Violence and Human Dignity" at Christian Theological Seminary (CTS) in Indianapolis on Thursday, May 14, from 7 p.m. to 9 p.m. The conversation will take place in Sweeney Chapel. The event is free and open to the public.
A native of Northern Ireland, Good earned a Master of Sacred Theology at CTS in 1966. During his time in the U.S., he was deeply influenced by America's civil rights movement and the assassinations of Dr. Martin Luther King, Jr. and Robert Kennedy. Upon his return to Ireland in 1968, he served an inner-city church on the infamous Shankill Road, a strongly Protestant/ Loyalist area of Belfast, which stood in contrast to Falls Road, equally infamous for its Catholic/Nationalist community. These were tragic, violent, politically unstable years in Northern Ireland. Good spent much of his time on the streets, attempting to calm fears, prevent violence and build bridges between the two communities.
In 1973, Good was appointed Director of the Corrymeela Community, a center of reconciliation founded by Christians of both the Catholic and Protestant traditions. Corrymeela brought together warring paramilitary and political factions to find common understanding. In 2005, Good and Father Alec Reid, a Roman Catholic, served as independent witnesses to verify the de-commissioning of IRA weaponry. This action revived the stalled peace process and made way for the Good Friday (Belfast) Agreement. In 2001, Good was elected President of the Methodist Church in Ireland. He has advised the UK government on social policies and lent his expertise to numerous human rights organizations and education institutions. Queen Elizabeth named him an Officer of the Order of the British Empire.
Good's peace-making efforts have been recognized with numerous international awards, including the Rene Cassin Human Rights Award, World Methodist Peace Award and Gandhi Foundation International Peace Award.
Good's commitment to grassroots ministry is reflected in his statement, "Nothing is real until it is local."
Good is the CTS Commencement speaker and will receive an honorary degree on Saturday, May 16. Tickets are required for commencement.
Christian Theological Seminary (CTS) is a fully accredited graduate school, open to all, related to the Christian Church (Disciples of Christ). More than 30 denominations are represented among CTS faculty, staff and students, and the school enjoys a vibrant, longstanding tradition of interfaith dialogue and engagement. CTS offers eight graduate-level degree programs, including theology, ministry and counseling, with specializations in ministries that emphasize the arts and programs for lifelong learning. Additional information about CTS is available at http://www.cts.edu.
Contact: Liz Joss
317-931-2316, ljoss(at)cts(dot)edu
Susan Miller
756-620-2007, smiller(at)5metacom(dot)com