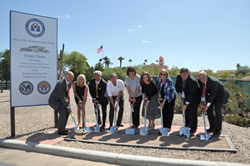 Tucson, AZ (PRWEB) May 08, 2015
Fisher House Foundation, which provides comfort homes for military and Veteran families, is expanding into Arizona. On Thursday, May 7, Fisher House Foundation broke ground on a new Fisher House for military families to support a loved one hospitalized for wounds, injuries, or illnesses. Fisher House Foundation vice president for community relations, Derek Donovan joined Southern Arizona VA Health Care System (SAVAHCS) director Jonathan H. Gardner, Chairperson Arizona Fisher House Foundation, Dr. Dana T. Staggs, U.S. Congresswoman representing Arizona's 1st District Ann Kirkpatrick, U.S. Congresswoman representing Arizona's 2nd District Martha McSally, and community supporters to officially commence construction on the new Arizona Fisher House.
"We are very excited to bring a Fisher House to the Veterans and their families served by the Southern Arizona VA Health Care System," said Donovan. "It has been quite impressive to watch the Arizona community embrace their Veterans through this project. Dr. Dana Staggs along with the other members of the local Arizona Fisher House organization have been absolutely amazing in raising funds and awareness for this house."
The new 13,000 sq. ft. Fisher House will feature 16 suites, and welcoming common areas including a well-appointed kitchen; large communal living, dining and family rooms, and patio.
"The Arizona Fisher House will be a valuable asset to the Tucson community and also the state of Arizona," said Gardner. "The Fisher house will complement the world-class health care our staff provides the Veterans we serve."
The entire Southern Arizona community to include major corporations, non-profit organizations, local and state businesses, Veteran Service Organizations and state law makers have all quickly responded to the need the help Veterans by unselfishly giving to the new Arizona Fisher House.
This Arizona Fisher House will open in 2016 to serve military and Veterans' families.
About Fisher House
Fisher House Foundation is best known for a network of comfort homes where military and veterans' families can stay at no cost while a loved one is receiving treatment. These homes are located at major military and VA medical centers nationwide, and in Europe, close to the medical center or hospital it serves. Fisher Houses have up to 21 suites, with private bedrooms and baths. Families share a common kitchen, laundry facilities, a warm dining room and an inviting living room. Fisher House Foundation ensures that there is never a lodging fee. Since inception, the program has saved military and veterans' families an estimated $282 million in out of pocket costs for lodging and transportation.
Fisher House Foundation also operates the Hero Miles Program, using donated frequent flyer miles to bring family members to the bedside of injured service members as well as the Hotels for Heroes program using donated hotel points to allow family members to stay at hotels near medical centers without charge. The Foundation also manages a grant program that supports other military charities and scholarship funds for military children, spouses and children of fallen and disabled veterans.
About Southern Arizona VA Health Care System
The Southern Arizona VA Health Care System (SAVAHCS) located in Tucson Arizona has been serving America's heroes, our Veterans, since its dedication on October 13, 1928. SAVAHCS currently serves over 170,000 Veterans located in eight counties in Southern Arizona and one county in Western New Mexico. SAVAHCS is a 277-bed hospital providing primary care and sub-specialty health care in numerous medical areas for eligible Veterans. Many SAVAHCS services are tailored to meet the unique needs of Veterans that are not readily available in the private sector. They include: Spinal cord injury, blind rehabilitation, geriatric rehabilitation, amputee programs, prosthetics, post-traumatic stress disorder treatment, extensive array of mental health programs, Operation Enduring Freedom/Operation Iraqi Freedom/Operation New Dawn (OEF/OIF/OND), and Polytrauma Network Site case management programs. SAVAHCS also provides our Veterans with quality care at our seven Community Based Outpatient Clinics located at Safford, Casa Grande, Sierra Vista, Yuma, Green Valley, Northwest and Southeast Tucson.
In fiscal year 2014, SAVAHCS treated over 8,000 inpatients, performed over 5,100 surgeries and completed an excess of 680,000 outpatient visits.
http://www.tucson.va.gov / http://www.facebook.com/VATucson / http://www.twitter.com/TucsonVA