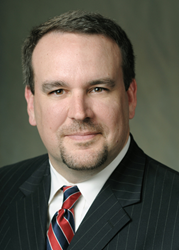 NEWARK, N.J. (PRWEB) May 11, 2015
LeClairRyan today announced that Newark-based shareholder Thomas C. Regan has been named the leader of the firm's national products liability practice team.
LeClairRyan's products liability team is comprised of nearly 90 attorneys and professional staff in offices across the country. The team has broad experience handling the full spectrum of products liability matters – from allegations of defects in consumer products to toxic substance exposure – in a wide range of industries. The products liability team also includes subgroups who handle aviation and trucking matters, with a particular focus on accident defense. All told, members of the team have handled hundreds of products liability and mass tort cases in jurisdictions throughout the United States, with much of the work including allegations of catastrophic injury.
In his role as team leader, Regan will be responsible for providing strategic direction and educational opportunities to the team, managing client development, and assisting in recruiting additional attorneys and professional staff.
An experienced trial lawyer, Regan focuses his practice on the representation of corporate entities, from multinational Fortune 500 companies to closely held companies and individuals, against claims of serious and catastrophic injury that allegedly result from product liability or negligence, and against claims of breach of warranty. Additionally, he has substantial experience managing and defending large dockets of cases filed in multiple jurisdictions. Regan also serves as the leader of the firm's national Automotive Industry team and is the author of Break the Scales: Changing the Delivery of Legal Services, a blog found at http://breakthescales.com.
About LeClairRyan
As a trusted advisor, LeClairRyan provides business counsel and client representation in corporate law and litigation. In this role, the firm applies its knowledge, insight and skill to help clients achieve their business objectives while managing and minimizing their legal risks, difficulties and expenses. With offices in California, Colorado, Connecticut, Georgia, Maryland, Massachusetts, Michigan, Nevada, New Jersey, New York, Pennsylvania, Texas, Virginia and Washington, D.C., the firm has approximately 380 attorneys representing a wide variety of clients throughout the nation. For more information about LeClairRyan, visit http://www.leclairryan.com.
Media Contact: Christina Llames (804) 783-7518; Christina(dot)Llames(at)leclairryan(dot)com