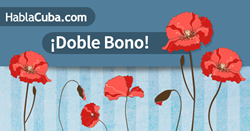 Fàcil y màs barato que los otros sistemas semejantes. (Luc Denis on Trustpilot.com)
Atlanta, Georgia (PRWEB) May 11, 2015
Soon after Mother's Day, Cuban expats have the chance to send 100% free extra mobile credit to their family and friends in Cuba. They will pay for a regular top up of $22 to $55 and send double the amount. The promotion is available between May 12-15, and runs under the motto ¡Un regalo nunca viene tarde! It stands for the opportunity to send a late gift to a mother or just make a surprise to the loved ones back home in Cuba. The Doble Bono promotion is available at http://hablacuba.com/buy/mobile_recharge
As usually, the Doble Bono, "doble recarga" or "doble saldo" promotion is dedicated to both new customers willing to get a great deal while trying the service, and the loyal ones. Cuban expats use the Mobile Recharge service to support their relatives in Cuba with mobile credit for at least 2 reasons:
-easier and faster than money transfers
-easier to control
The bonus amount of this HablaCuba.com offer can be used by any service available to Cubacel prepaid customers, including the Nauta email service. The minimum value necessary to receive the bonus is $22 and in this case the bonus is active for 180 days, while the maximum is $55 and the bonus expires in 330 days.
Everyone who receives the Doble Bono gets double extra credit on their Cubacel phones in Cuba. Anyone holding an account on HablaCuba.com can send it to Cuba, no matter the country they live in. For example, one can recharge a mobile in Cuba with 40 CUC and pay only $22. Opening and holding an account on HablaCuba.com is chargeless.
The new cycle of life for Cubacel mobile line is 330 days from the date of the Top Up. After the active period expires, Cubacel subscribers will enjoy 30 additional days to receive SMS and calls from other active mobile or from mobiles outside Cuba. This period will allow the customer to top up the mobile before it gets deactivated.
Anyone entering the promotion has the option to send an SMS that costs nothing, together with the top up and announce the beneficiary in Cuba about the refill.
Doble Bono is a win win situation for both the sender and the receiver. The receiver gets 100% extra Cubacel credit besides the initial amount. The sender, on the other hand, pays for a certain value and sends double.
Plus, for each mobile recharge or top up, customers get Thank You points for future costless calls. There is a special section in the online account where this information can be checked. When 1000 Thank You points have been collected, customers themselves will convert the points into $10 balance for their international calls to Cuba or any other destination. In addition to the promotional offer, HablaCuba.com applies an extra bonus for each mobile recharge. Customers receive 2% of the value of the purchase in Thank You points.
Once Thank you points turn into Voice Credit, it can be used for calling Cuba for free.
In order to make a call with HablaCuba.com, customers can choose from three different options available:
-From any landline, mobile or even pay phone using access numbers.
-From KeepCalling app for Android or iOS (no access numbers needed); once logged in the app, customers can use their phone -Contacts list to call.
-From any PC with Internet connection to any phone through the Web Call app available in customer's account.
Why thousands of hundreds of customers use HablaCuba.com:
-No costs to create an account
-All major payment methods are accepted, no matter the currency
-Best deals for Mobile Recharges of mobiles in other countries (price - mobile credit ratio)
-Regular promotions
-Voice Credit balance never expires
-KeepCalling app for international calls
-High privacy protection (TRUSTe label)
-100% security of transactions (Verified & Secured certificate)
-Transparency of service and no hidden fees (BBB accredited)
-100% Customer Satisfaction and 24/7 honest and friendly Support (BBB label)
-Invoices and activity log available at any time in the online account
-Mobile friendly website
-Easy to use service
About HablaCuba.com
HablaCuba.com is an interactive website designed by KeepCalling, a global telecommunications company registered in 2002 in USA. Presently, KeepCalling provides its services to hundreds of thousands of consumers and businesses, with a focus on customer satisfaction. KeepCalling has been listed by Inc 5000 in top 20 telecom companies in the USA for the last 4 years. Plus, in 2014 the company was named the 18th fastest growing company in the telecommunications industry in USA with a revenue increase of over 600% from 2010 to 2013.