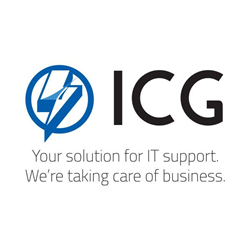 "We are proud of our skills and responsiveness. Our new app will allow us to shine where we truly excel, customer service and IT solutions. We are getting IT done and taking care of business." - Jeff Bronson, owner Innovative Consulting Group
Knoxville, TN (PRWEB) May 11, 2015
Innovative Consulting Group (ICG) is relocating to a new 6600 square-foot location at 4726 Western Avenue to accommodate its rapid growth since forming in 2011. ICG is a full-service IT consulting, IT management, application development and business consulting company located in Knoxville, Tennessee. ICG is also a market leader in ERP/Fourth Shift consulting.
"We're honored and humbled by the trust our clients put in our services," said Jeff Bronson, owner of Innovative Consulting Group. "When we first opened our doors, we never dreamed how far we would go. We started with a couple custom software pieces and IT consultation, and before long found ourselves with clients in four countries. Now, as we continue to expand our services, our new location will allow for additional IT support members as well as a team of custom software developers for mobile apps as well as more complex solutions."
ICG is also launching its own custom mobile app in conjunction with the expansion. The app, 'ICG Hotline,' is available for iPhone and Android devices and offers two unique features. First, if anyone has IT questions and/or needs at any time (24 hours/day 7 days/week) they simply press the 'hotline' button and one of the top ICG technicians is guaranteed to take the call. Second, the app allows submission of questions and consultations for IT needs…simply snap a picture and send a question, someone will respond within one business hour, guaranteed.
"We are proud of our skills and responsiveness," adds Bronson. "Our new app will allow us to shine where we truly excel, customer service and IT solutions. We are getting IT done and taking care of business."
The new location is comprised of 17 individual offices and 2 large group oriented workrooms allowing for a total of 25 employees, as well as two full conference rooms and a group training facility that will be used for free monthly seminars.
ICG Hotline app availability:
iTunes: https://itunes.apple.com/us/app/icg-hotline/id987111425?mt=8
Android: https://play.google.com/store/apps/details?id=com.zerogsoftware.salonmobileapps.icg