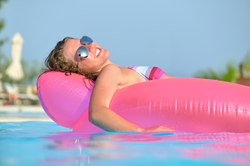 2015 Happiest Community of the Year
Wilmington, North Carolina (PRWEB) May 09, 2015
Compass Pointe in the Wilmington North Carolina area is awarded the "Happiest Community of 2015" of the Bliss Awards by Real Estate Scorecard. To celebrate this recognition, Compass Pointe hosted a Property Owner Appreciation Party where more than 400 residents, guests, and local dignitaries were in attendance to enjoy a "VIP' style party complete with red carpet interviews. This award is the most coveted Bliss Award and the highest honor a community can receive as it is solely based on actual reviews submitted by the residents in the community. Property owners revealed the deep friendships, endless fun and respect they have for real estate developer Bobby Harrelson. The presentation included an impromptu "what happiness looks like" video filmed the week before, three more Compass Pointe property owner testimonials to make them a perfect "100" and a "happiest" song composed and performed by Compass Pointe property owners.
District Attorney Jon David presented a toast to congratulate Compass Pointe on their award and spoke about what he feels Compass Pointe developers and residents have brought to the overall community. David states, "[Compass Pointe] is a wonderful place to live. There is such a sense of community here among the residents that now call Brunswick County home. I'm really seeing a spirit of activism and giving back. There are a lot of people who have moved here to not only enjoy this standard of life, but also be involved in the community."
Founder Margie Casey of Real Estate Scorecard formally presented the 2015 Bliss Award for Happiest Community of the Year to developer Bobby Harrelson declaring how Compass Pointe has become a benchmark in the real estate industry and role model in master planned communities. Harrelson accepted the award with an inspiring and emotional speech. He expressed immense gratitude to the residents of Compass Pointe for what they contribute and for making his dream for the community a reality. When asked what makes Compass Pointe the happiest community, he simply stated, "The people".
According to Margie Casey, beyond the friendly people and being positioned in one of the best places to live in North Carolina, Compass Pointe has incredible curb appeal and an extensive amenity list which includes:
Gated Entrance
18 Hole Golf Course designed by Rick Robbins - under construction
10,000 Square Foot Grand Lanai Clubhouse
7,000 Square Foot Pointe Wellness Center and Spa
Resort-style Swimming Pool
Two Lighted Tennis Courts
Basketball Court
Kayak Launch
Accent Lakes
Dog Park
The gated community is golf cart friendly and has a tropical resort-style feel near several superb North Carolina beaches. The public golf course is currently under construction and is expected to be complete later this year. To schedule a tour of Compass Pointe, call Bill Boyer of Intracoastal Realty at 910-262-5414.
About Real Estate Scorecard:
Real Estate Scorecard writes unbiased real estate reviews providing in-depth information about popular gated communities in Florida, Georgia, North Carolina, South Carolina and Tennessee, all in an effort to help people discover where to retire in the Southeast.
Website: http://realestatescorecard.com