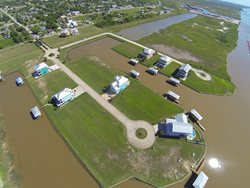 This is the last developed waterfront location in Matagorda County
KANSAS CITY, Mo. (PRWEB) May 11, 2015
Buyers have the opportunity of a lifetime to bid on a diverse offering of waterfront lots in Matagorda County, Texas, at auction. United Country – Coleman & Patterson of Bryan/College Station, Texas, will offer a variety of tracts to the highest bidders during a live event to be conducted Friday, May 29.
"We believe that multi-property events are one of the best ways to bring properties to the public," said David Coleman, principal, broker and auctioneer with United Country – Coleman & Patterson. "This format allows qualified buyers the opportunity to see a variety of available properties and determine their current fair market values through the bidding process."
This event will offer 15 canal-front properties in the Bay Harbor subdivision in Matagorda, Texas. Additionally, a separate roughly 2.75-acre corner tract of commercial land and five cottage-style residential lots will be offered to bidders at the event.
"We are honored to present this amazing opportunity to the public," Coleman said. "This is the last developed waterfront location in Matagorda County. These properties offer a range of opportunities from existing income production to prime development spots. Additionally, the Bay Harbor properties are located near great fishing, Matagorda beaches and only 90 miles from Houston."
The May 29 event will begin at 10 a.m. and will take place on-site at the Bay Harbor subdivision on Alpha Slip Road in Matagorda. Interested buyers may preview the properties on Friday, May 22 from 10 a.m. to 1 p.m.
Property details, photos, online bidding, as well as terms and conditions can be found at BuyMatagorda.com. United Country – Coleman & Patterson can be reached at 888-300-0005 or by email at david(at)colemanandpatterson(dot)com.
About United Country Real Estate
United Country Real Estate – a division of the United Real Estate Group – is the leading, fully integrated network of conventional and auction real estate professionals. The company has been an innovator in lifestyle and country real estate marketing since 1925. United Country supports nearly 600 offices and 5,000 real estate professionals across four continents, with a unique, comprehensive marketing program. The exclusive program includes the highest ranked and largest portfolios of specialty property marketing websites, unequaled national print advertising, the largest internal real estate advertising agency, an extensive buyer database of more than 500,000 opt-in buyers and additional proprietary programs to advertise properties more broadly.