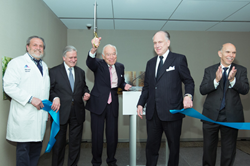 New York, NY (PRWEB) May 08, 2015
The Mount Sinai Hospital has opened its new 20,700-square-foot Lauder Family Cardiovascular Ambulatory Center. The Center was created thanks to the generous support from Ronald S. Lauder and family to honor Valentin Fuster, MD, PhD, Director of Mount Sinai Heart and Physician-in-Chief of The Mount Sinai Hospital, and dedicated to Dr. Fuster in recognition of his leadership.
The Center, located within The Mount Sinai Hospital's Guggenheim Pavilion (GP 1 Center) lobby at 1190 Fifth Avenue, now offers comprehensive and integrated cardiovascular care in one convenient location to nearly 300 heart and vascular outpatients daily.
"The Lauder Family Cardiovascular Ambulatory Center is home to a true team of heart and vascular doctors, and one of the most advanced Center's in the country," says Dr. Fuster, Director of Mount Sinai Heart at The Mount Sinai Hospital. "I am honored the Lauder Family is sharing their generous support for this new comprehensive cardiovascular center. It is a great tribute to their dedication to the promotion of cardiovascular health."
The Center's leadership team includes Dr. Fuster; Joseph M. Sweeny, MD, as Medical Director; and Haydee Garcia, NP, as Nursing Director. Their team of more than 40 cardiologists and vascular physicians offers specialized patient care in cardiovascular disease prevention, general cardiology, cardiac imaging, cardiac rehabilitation, heart failure and transplantation, vascular medicine and vascular surgery. These missions are advanced with the help of 18 fellows and more than 60 nursing, clinical, and administrative support staff. In addition, the Center includes an anticoagulation clinic for patients on blood thinner medications, along with a dedicated nutritionist, social worker, and four patient navigators.
"This state-of-the-art facility allows our talented Mount Sinai faculty the ability to provide the highest quality cardiovascular care to our patients with an integrated approach," says interventional cardiologist Dr. Joseph M. Sweeny, Medical Director of the Lauder Family Cardiovascular Ambulatory Center at The Mount Sinai Hospital. "Our Center will strive to markedly improve the cardiovascular health of each of our patients."
Also, the Center offers patients two large waiting rooms, plasma screen televisions, a patient library, 22 exam rooms, and five vascular ultrasound rooms. It also has its own dedicated patient call center reachable at: 1-855-MSHEART (1-855-674-3278).
In summer 2015, the Center will expand offering a full spectrum of non-invasive cardiac imaging technology onsite for convenient patient echocardiograms, stress echocardiograms, nuclear stress tests, CT scans, and chest x-rays.
"Our goal was to consolidate all cardiology, vascular medicine, and vascular surgery outpatient services into one state-of-the-art center," says Haydee Garcia, NP, Nursing Director of the Lauder Family Cardiovascular Ambulatory Center. "We thank the Lauder Family for helping us make this goal a reality and we look forward to providing cardiovascular medicine outpatient services from the patient exam to noninvasive cardiovascular imaging and procedures all in one place."
To make an appointment at the Lauder Family Cardiovascular Ambulatory Center, please call: 1-855-MSHEART (1-855-674-3278) or visit: http://www.mountsinai.org/laudercenter.
About the Mount Sinai Health System
The Mount Sinai Health System is an integrated health system committed to providing distinguished care, conducting transformative research, and advancing biomedical education. Structured around seven hospital campuses and a single medical school, the Health System has an extensive ambulatory network and a range of inpatient and outpatient services—from community‐based facilities to tertiary and quaternary care.
The System includes approximately 6,600 primary and specialty care physicians, 12‐minority‐owned free‐standing ambulatory surgery centers, over 45 ambulatory practices throughout the five boroughs of New York City, Westchester, and Long Island, as well as 31 affiliated community health centers. Physicians are affiliated with the Icahn School of Medicine at Mount Sinai, which is ranked among the top 20 medical schools both in National Institutes of Health funding and by U.S. News & World Report.
For more information, visit mountsinai.org, or find Mount Sinai on Facebook, Twitter, YouTube and Instagram.