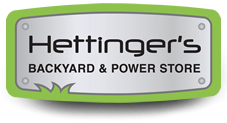 Galesburg, MI (PRWEB) May 11, 2015
When Altoz, the manufacturer of premium zero-turn lawn mowers, released its new XE series of mowers, Hettinger's Backyard & Power Store quickly made the new series available for its customers in Southwest Michigan.
Altoz' XE series comes with a commercial grade Briggs & Stratton engine, Hydro-Gear transmissions, and 22" tires to make these mowers tough and fast. They have a top speed of 9 mph. But like all of Altoz riding mowers, the XE series excels in rider comfort with a a high back, arm rests, and fore and aft adjustment. These mowers can be equipped with an optional suspension seat.
The rugged chassis is made of C-Channel frame rails from formed, laser-cut and welded heavy-gauge steel to provide maximum strength and rigidity. The mower's Hydro-Gear transmissions offers what Altoz describes as the "best method of transferring power from the engine to the wheels" to offer a top level of performance, speed and handling. Every XE series mower comes with a 10-gallon fuel tank to extend cutting time for large lawns.
Yet the XP series is a more economical alternative to the Altoz XP and top-of-the-line XC series. The XE series of mowers are available with 48" and 54" cutting widths, both powered by a 24 hp engine, and a 61" cutting width powered by a 26 hp engine.
Altoz, based in Greenbush, MN, was formed by its parent company, Central Boiler, a maker of outdoor wood furnaces since 1984. Altoz brought together a global team of engineers and skilled craftsman with extensive experience in automotive and power sports industries to conceive and build its mowers. The Altoz mowers feature dramatic, high-tech design, comfort and reliability. Altoz offers mowers suitable for private residential use as well as models designed for commercial use.
Hettinger's Backyard & Power Store, located at 96 East Michigan Ave. in Galesburg, offers power equipment, supplies and more for professional landscapers, woodlot managers and homeowners. More information is available at http://www.hettingersbackyard.com.