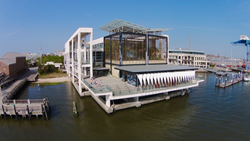 Charleston, S.C. (PRWEB) May 08, 2015
Celebrate Mother's Day by bringing the special lady in your life to experience the Aquarium's newest exhibit, Shark Shallows. All moms receive complimentary admission with a paying guest or child this Mother's Day, May 10. This is the perfect time to visit Shark Shallows and come 'Fingers to Fins' with sharks and rays.
Shark Shallows, the first exhibit of its type in the region, will teach visitors about the importance of the ocean's top predator, sharks, and what they can do to protect this greatly misunderstood species. From Aquarium experts communicating with visitors during daily shows, to interactive education areas around the exhibit, Shark Shallows will dispel widespread rumors about sharks, and encourage visitors to advocate for the conservation of these animals in the wild. The animals that will inhabit Shark Shallows include bonnethead sharks, as well as cownose rays and southern stingrays. Each animal serves as ambassadors for their species and are found right off of the South Carolina coast.
Fast Facts:

The South Carolina Aquarium invites all moms to enjoy a day on us
Mothers receive complimentary admission with a paying guest or child
Sunday, May 10, 2015
Be one of the first to enjoy the new Shark Shallows exhibit
Shark Shallows is sponsored in part by The Guy Harvey Ocean Foundation, MWV, Peninsula Grill and Hank's Seafood Restaurant.
For all media inquiries, please contact Kate Dittloff at (843) 579-8660 or kdittloff(at)scaquarium(dot)org.
About the South Carolina Aquarium:
The South Carolina Aquarium, Charleston's most visited attraction, features thousands of amazing aquatic animals from river otters and sharks to loggerhead turtles in more than 60 exhibits representing the rich biodiversity of South Carolina from the mountains to the sea. Dedicated to promoting education and conservation, the Aquarium also presents fabulous views of Charleston harbor and interactive exhibits and programs for visitors of all ages.
The South Carolina Aquarium, a 501(c) (3) not-for-profit organization and is open daily from 9 a.m. to 6 p.m. The Aquarium is closed Thanksgiving Day, half day Dec. 24 (open 9 a.m. to 1 p.m.) and Dec. 25. Admission prices are: Toddlers (2 and under) free; Youth (3-12) $17.95; Adults (13+) $24.95. The Aquarium plus the 4-D Theater experience is free for Toddlers, $22.95 for Children, $29.95 for Adults. The 4-D Theater experience only is $6.95 for Children and Adults, and free for Members. For more information call 843-720-1990 or visit scaquarium.org. Memberships are available by calling 843-577-FISH.
###