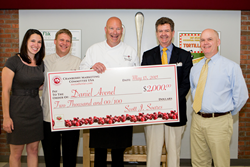 Wareheam, Massachusetts (PRWEB) May 14, 2015
School foodservice chefs across the country flexed their culinary muscles in a recipe contest featuring America's Original Superfruit® – cranberries. Danny Avenel, chef manager at Porter-Gaud School in Charleston, S.C. was declared the $2,000 grand prize winner in the 2015 Cranberry Marketing Committee USA / Flik Independent School Dining (Flik) Cranberry Recipe Contest. Avenel, aided by his school's Head Cook, Sam Dudley, earned the victory with his inventive "Cranberry, Kale and Quinoa Stuffed Poblano and Duck Tacos" topped with Cranberry Chipotle Sour Cream.
The Cranberry Marketing Committee USA (CMC), in partnership with Flik, a division of Compass Group (the leading foodservice management company in North America), asked Flik school foodservice employees across the country to "Get Their Cran On!" in the CMC's second annual school foodservice cranberry recipe contest. Entrants submitted recipes in four categories: breakfast, lunch, snack and grilling/summer. In addition to Avenel's grand prize, four category winners each took home $750.
"This contest celebrates the talent and creativity of school foodservice professionals, as well as their efforts to provide students with great tasting, nutritious meals year-round. I was impressed with their creativity and the variety of recipes featuring cranberries--America's Original Superfruit," said Scott J. Soares, Executive Director of the Cranberry Marketing Committee USA.
Winner Danny Avenel enjoys cooking with cranberries because of their unique taste and versatility, saying, "They bring a wonderful tart and fruity flavor to a wide range of sweet and savory dishes." Though he has only worked in school foodservice for two years, Danny is no stranger to the hustle and bustle of feeding dozens of hungry people every day, having spent 20 years in the restaurant business prior to working in school foodservice. Avenel loves his job at Porter-Gaud School because of the creativity required to develop nutritious recipes that kids love to eat.
The four category-winning recipes are:

Breakfast: Cranberry Sweet Potato Hash with Poached Egg from James Patterson, Director of Dining Services for Convent of the Sacred Heart in Greenwich, Conn.
Lunch: Bayou Cranberry Crab Cakes from Brandon Adams, Chef Manager for Trinity Episcopal School – New Orleans in New Orleans, La.
Snack: Cranberry and Roasted Beet Hummus from Jeremy Dmyterko, Executive Chef for St. Luke's School in New Canaan, Conn.
Grilling/Summer: Grilled Spicy Cranberry Pesto Shrimp over Curried Israeli Cous Cous with Mango and Dried Cranberries from Scott Iwanicki, Executive Chef at The Ethel Walker School in Simsbury, Conn.
The entrants' creative recipes will also be added to the growing collection of recipes offered by the CMC at http://www.uscranberries.com.
About the Cranberry Marketing Committee, USA (CMC)
The CMC was established as a Federal Marketing Order in 1962 to ensure a stable, orderly supply of good quality product. Authority for its actions are provided under Chapter IX, Title 7, Code of Federal Regulations, referred to as the Federal Cranberry Marketing Order, which is part of the Agricultural Marketing Agreement Act of 1937, as amended. This Act specifies cranberries as a commodity that may be covered, regulations that may be issued, guidelines for administering the programs, and privileges and limitations granted by Congress. For more information about the CMC, visit http://www.uscranberries.com. Follow at http://www.twitter.com/uscranberries and http://www.facebook/cranbecravers.
About Flik Independent School Dining
Flik is a diverse family of food and nutrition specialists dedicated to providing the academic community with fun, healthy dining options. Flik partners with school communities to customize a program that meets the needs of their unique student body. Chefs use fresh local ingredients and world-class culinary techniques to provide students with innovative, diverse menus. From expansive, colorful salad bars to soups made from scratch, Flik works closely with each client to transform their school's hall into a source of pride and values.