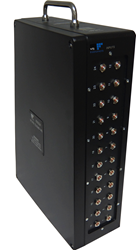 (PRWEB) May 11, 2015
VTI Instruments announced the release of its RX0224, a 24 channel high performance charge vibration measurement instrument, designed to allow users the ability to record charge type transducers in harsh environments. Multiple input ranges and 24 bit ADC per channel allow for very high resolution measurements so that large or small vibration events can be accurately captured.
The 10-32 coaxial "microdot" connections in the unit provide a direct connection for each input channel and the ability to select either single ended or differential inputs, giving users more flexibility with a wider range of charge input devices. To provide maximum reliability, power and communications are done using mil-standard type connectors.
By leveraging the IEEE-1588 Precision Time Protocol standard, the RX series family of instruments is able to provide users with rapid integration and precise synchronization of multiple devices. All measurement data is returned with IEEE-1588 timestamps with typical accuracies of <100 ns ensuring that acquired data is tightly correlated across the measurement system. Its rugged design enables placement extremely close to the measurement points of interest reducing the run length of analog cable and minimizing errors induced by noisy environments.
With an IP66 rating, the RX0224 is protected against dust, spills, humidity, and water jets from every direction. The unit also has an extended operating temperature range of -20°C to +60°C and a compact, light-weight design. Using thermal conduction cooling techniques, the RX0224 is able to dissipate heat without the use of a fan.
Other key features include:
•Provides full charge signal conditioning with built in integrator for velocity output. Single ended or differential (isolated) operation
•Built in signal processing using an internal FPGA
•Temperature monitoring and control
To find out more about the RX0224 please visit our website, or speak directly to an applications engineer.