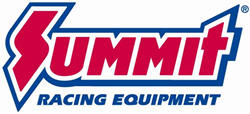 Tallmadge, OH (PRWEB) May 12, 2015
Summit Racing now carries the complete line of Danchuk Manufacturing restoration parts for the 1955, 1956, and 1957 Chevy. The company manufactures everything in the USA--the only ones that care more than the Danchuks about 1955-57 Chevys are the guys that restore them. Almost 1,000 Danchuk parts are available at Summit Racing including:
Sheetmetal
Summit Racing has Danchuk reproduction fenders, doors, floors, firewalls, and other sheetmetal, plus the stuff like inner panels, braces, headlight patch panels, A-pillar reinforcements, and more to bring a Tri-Five shell back from the dead. The sheetmetal is made to original specs and material gauge for a perfect fit.
1957 Bel Air Side Panel Inserts
Danchuk made their first '57 Bel Air side panel inserts in 1978, and have kept improving the quality ever since. The grooves are precision-cut to the original depth and width, showing off the subtle contrast between the polished ridges and the buff-finish grooves. The tooling is so good, it puts the correct complex contour in the back of the panel so it fits flawlessly against the quarter panels. The inserts come assembled with Bel Air scripts and crest emblems. Available for two- and four-door Bel Airs.
Dash Bezels for 1955-56 Bel Air
It's the small things like dash bezels that separate a rehab from a first-class restoration. This bezel set includes bezels for the ignition, lights, windshield wipers, lighter, and radio volume and selector knobs.
1955 Chevy Parking Light Assembly
Parts like these parking light assemblies are what made Danchuk's reputation. The housings feature show quality chrome plating, correctly pressed-in light bulb housings, new lenses, sockets and cables, light bulbs, gaskets and mounting hardware.
1955 Chevy Hood Bird
If your hood bird is pitted or showing its age, don't waste money repairing it or getting a knockoff from who knows where. Danchuk says it spared no expense in the tooling for its hood birds, and spent hours working the castings by hand to prepare them for plating. A gasket is included.
Horn Ring Assembly for 1957 Chevy 210
Danchuk has been making horn kits and emblems for over 20 years, and now it makes the horn rings too. Made using brand new molds, the ring assembly is a dead ringer for the OEM assembly—except this one has show quality chrome plating. The assembly includes the horn ring, center cap, and emblem.
It just so happens that Danchuk's restoration parts fit up perfectly with Real Deal Steel 1955-57 all-steel reproduction bodies, also available at Summit Racing:
Summit Racing Equipment
http://www.SummitRacing.com
1-800-230-3030