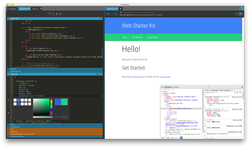 In 2015, most code editors still look like terminals. We deserve better
Paris, France (PRWEB) May 12, 2015
Launched today in open beta, TweakStyle brings a new approach to web development, with both the ease to code web pages and to test them. It combines the power of browsers developer tools with the comfort of modern code editors. Designed for and by front-end developers, it breaks with the complexity of other applications in the market bringing a fresh and smart UI.
TweakStyle features code editing and preview side by side in an integrated way. The preview allows to navigate like in a regular browser while viewing and editing the involved files in the code pane. When editing stylesheets, preview is updated live, while typing. It also get tools on both code and preview sides, including color picker, bulk add to workspace tool, element selector or debug tools. TweakStyle is still in development and is regularly updated with new features.
After an invite-only alpha with 1000+ testers involved, TweakStyle is starting an open beta to give the chance to everyone to get involved in its development process.
TweakStyle has entered open beta so anyone can download and try it for free. The beta also serves as a trial and will expire in 15 days. It is available for Mac OS X, Windows 7+ and Linux. During the beta period, the full version will be available for the discounted price of only $71.99 (USD). Afterward, the price will rise to $89.99.
Please visit https://tweakstyle.com for more information.
TweakStyle is developed by TweakStyle SASU, a software development company based in France.