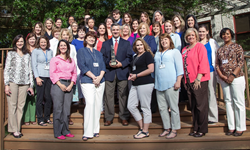 Our clinicians go out of their way to make the member feel understood and cared for and there is a strong connection which goes deeper than the normal company/customer relationship.
(PRWEB) May 10, 2015
Gilsbar's Care Management Program was recognized by the Louisiana State Nurses Association (LSNA) as the 2015 Outstanding Employer of the Year at their prestigious 14th Annual Louisiana Nurses Foundation Nightingale Awards and Gala on Saturday, March 28, 2015. This award is presented to a non-hospital employer of registered nurses who demonstrates recognition for professional nursing and innovation in leadership. The LSNA recognizes the achievements of nurses across Louisiana in a variety of categories, and nominations are submitted by colleagues for recognition and review.
Gilsbar is proud to receive this award and recognizes the hard work and dedication it represents by the registered nurses who work at Gilsbar, as well as their supervisors and managers. "We are honored that the Louisiana State Nurses Association has recognized Gilsbar's Care Management Program as the Outstanding Employer for a non-hospital," said Paul Johnson, the Director of Gilsbar's Population Health team. "Care Management employees work incredibly hard each and every day, but they enjoy helping members. Our clinicians go out of their way to make the member feel understood and cared for and there is a strong connection which goes deeper than the normal company/customer relationship. This was evident to the selection committee and I'm extremely proud of the team."