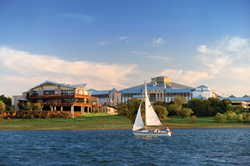 With our Wonderful Wizard of Oz theme, we have created a robust itinerary of events and activities for families to enjoy this summer," said Martha Neibling, Director of Marketing and Public Relations at Gaylord Texan Resort
GRAPEVINE, Texas (PRWEB) May 08, 2015
For the 12th annual SummerFest, Gaylord Texan Resort & Convention Center invites visitors to enjoy a memorable summer vacation taking place May 22 to Sept. 7, 2015. In addition to the Grapevine hotel's remarkable amenities, the resort will lead you down the yellow brick road to the Land of Oz while encountering the characters second scenes from L. Frank Baum's original story "The Wonderful Wizard of Oz."
SummerFest will offer a variety of Oz-inspired activities for children and adults. Events include "The Lost Treasure of Oz Scavenger Hunt," an interactive scavenger hunt throughout the resort; "Oohs & Ahhz Art Tour" showcasing Oz-themed artwork created by a group of talented local Texas artists; "Create Your Own Ahhz Kids Craft Corner," where kids create a masterpiece with a Wizard of Oz cookie making kit or a custom canvas; and "Friday Night Fireworks" displaying a magnificent fireworks show at the top of the Grapevine resort's parking garage.
Culinary events include a VIP BBQ Tasting and Glass Cactus Sunset Patio Hour on the decks of Glass Cactus Nightclub, Margarita Madness happy hour specials at Riverwalk Cantina, Wine & Cheese Pairings at Old Hickory Wine Bar, and "Junior Chef Camps" conducted by the hotel's award-winning executive chefs. Every Friday and Saturday night, adults 21 and up can enjoy live stage music at the Glass Cactus Summer Music Series.
During SummerFest 2015, the DFW area hotel's local and overnight visitors can also enjoy dining at four award-winning restaurants including Old Hickory Steakhouse & Wine Bar, Zeppole Coastal Italian, Riverwalk Cantina Tex-Mex, and Texan Station Sports Bar & Grill. The resort's 25,000-square-foot European-inspired Relâche Spa & Salon will offer summer spa specials while its six unique retail shops provide a variety of shopping opportunities. The resort's 39,000-square-foot Glass Cactus Nightclub on the shores of Lake Grapevine provides a great escape with live stage music, dancing, four signature bars, multi-tiered outdoor decks, and gorgeous sunset views.
Additionally, guests staying overnight at the Grapevine, TX resort will have access to Paradise Springs, the 10-acre outdoor pool and lazy river complex. At Paradise Springs, families can enjoy the Pool-A-Palooza party with live DJ music, games, drink specials, and more. Paradise Springs boasts a 600-foot-long lazy river, a 6,000-square-foot family lagoon with a 27-foot-tall winding waterslide, a 25-foot-long zip-line, two horseshoe-shaped hot pools, water basketball and a dedicated toddler pool. Seating for 1,200 includes chaise lounges, beach chairs and family-style rounds. For VIP treatment, the pool at the Texas resort offers a selection of private cabanas for rent that include flat-screen televisions, refrigerators and fire pits.
In addition to Gaylord Texan's Oz-themed activities, the City of Grapevine's Tower Gallery will be featuring an interactive art exhibit after W.W. Denslow illustrations from "The Wonderful Wizard of Oz." Visitors will feel as if they are stepping into the pages as they walk through the storybook and learn about the science, art and history behind the first American fairy tale. The exhibit is perfect for children ages 2 to 12.
*As always, local day visitors who spend $25 or more in the resort's restaurants, retail shops, or Grapevine spa receive complimentary validation for short-term self-parking. For information on Gaylord Texan's 12th annual SummerFest activities as well as summer room rates and packages, please visit http://www.gaylordtexan.com or call 1-817-778-1000.