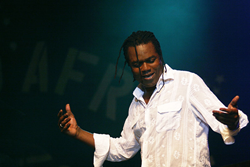 The Los Angeles Times: "Lemvo and his band, Makina Loca, manage a blend of Cuban and Central African traditions that is seamless and organic - and infectious."
San Rafael, CA (PRWEB) May 10, 2015
The 4th of five consecutive Saturday night outdoor concerts with dinners, cocktails, picnics, dancing and kid activities, brings hard-driving, dance inspiring Afro-Cuban beats from Ricardo Lemvo & Makina Loca. Ricardo has established himself as a pioneer with his innovative music and Afro-Cuban rhythms with pan-African styles (soukous, Angolan semba and kizomba) that has been described by the Los Angeles Times as "seamless and infectious."
This Congo-born artist of Angolan ancestry is the embodiment of the Afro-Latin Diaspora which connects back to Mother Africa via the Cuban clave rhythm. Lemvo is truly multi-cultural and equally at home singing in English, French, Spanish, Portuguese, Lingala, and Kikongo.
Since forming his Los Angeles-based band Makina Loca in 1990, Lemvo has refined his craft and vision, raising his joyous voice with strength, singing songs that celebrate life, and most importantly, inspiring his audiences to let loose and dance away their worries.
For this evening a wooden dance floor will be laid on the turf and the evening will begin with a salsa lesson to help you loosen up and get ready to dance all night.
The beautiful and safe Swig Field is surrounded by Marin hills and begs for picnicking, but will offer the choice of purchasing delicious as well as affordable meals on-site from Fairfax's own Casa Manana pop-up Restaurant. No alcohol is allowed to be brought in, but is available for purchase.
Marin Community Clinics host the Kid Zone, offering up an art project alongside the playground for youngsters. A Georgi & Willow pop-up shop will offer festival shopping and add to the full Marin community experience.
WHAT: Outdoor family- friendly concerts, fun, dancing and dining for all ages.
WHO: All are invited. No membership or affiliation required. Kids 17 and under free.
TICKETS: From $23. VIP, Reserved tables & General Admission choices
WHEN: Sat. Aug. 1 @ 7pm. Doors: 6:15 Gen Ad/ 6:00 VIP/Subscribers
WHERE: The Osher Marin JCC, 200 N San Pedro Rd, San Rafael, 1/2 mile E off 101
PARKING: Ample free parking.
BUY: Tickets available at http://www.marinjcc.org/arts
The Kanbar Center for the Performing Art s is the Performing Arts Department within the Osher Marin Jewish Community Center in San Rafael, California. All are welcome, no membership is ever required to attend. The Center is a long-standing Marin non- profit, centrally located in Marin County and just 1/4 mile east off Hwy 101
Summer Nights 2015
7/11- Bluegrass Night: Hot Buttered Rum
7/18- Hawaiian Islands: Hapa
7/25- SF Homegrown/Almost Country: The Lady Crooners
8/1- Afro-Cuban: Ricardo Lemvo & Makina Loca
Dance instruction & wooden dance floor
8/8 Celebrate Puerto Rico: Plena Libre
Dance instruction & wooden dance floor