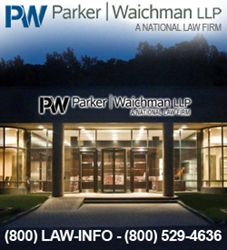 Reauthorization is crucial, especially considering that many 9/11 illnesses may not present for a number of years
Port Washington, NY (PRWEB) May 08, 2015
Parker Waichman LLP, a national law firm that has spent many years fighting to ensure that the heroes and survivors of the 9/11 terrorist attacks are never forgotten, comments on recent news involving the James Zadroga 9/11 Health and Compensation Act. On May 3, 2015, New York Daily News reported that House Speaker John Boehner is pressed to support reauthorization of the Zadroga Act following his recent visit to Ground Zero. Boehner was opposed to the Act in 2010 when it was passed, and his views have not shifted.
According to Parker Waichman, the Zadroga Act is crucial to many 9/11 responders and survivors. The Act created the World Trade Center (WTC) Health Program, which provides medical monitoring and treatment to responders and survivors, and extended the September 11th Victim Compensation Fund (VCF), which provides compensation to those who suffered economic loss due to the attacks. Parker Waichman notes that the fund is an important source of income for a number of responders and survivors who were exposed to toxic dust in the aftermath of the attacks.
"As a firm that has been fighting for the rights of 9/11 heroes and survivors since the beginning, we understand that these benefits are vital to those who sacrificed their health and well-being during a time of national crises," said Matthew J. McCauley, Senior Litigation Counsel at Parker Waichman.
House Speaker Boehner visited the National September 11 Memorial & Museum at the World Trade Center Foundation on April 26, 2015, NY Daily News reports. Last week, following his visit to the site, Boehner stated in an online post that, "Your heart breaks for the families," according to the NY Daily News. Yet, despite these sentiments, Boehner did not address the increasing number of responders who are developing health issues related to 9/11 and continues to oppose the Zadroga Act. The Act is scheduled to begin expiring this year if not extended by Congress, noted Parker Waichman; approximately 30,000 people receive treatment for at least one condition through the Act. Boehner's position contrasts a bipartisan group of lawmakers who are fighting to extend the Zadroga Act. Advocates of 9/11 responders and survivors are pressing Boehner to support the bill. "I don't see how Speaker Boehner could go see the devastation, destruction, and loss of life that occurred and still not support the reauthorization of the bill," said NYS AFL-CIO president, Mario Cilento, according to NY Daily News.
Parker Waichman notes that the Citizens for the Extension of the James Zadroga Act expressed similar sentiments. "After Speaker Boehner's visit to the National 9/11 Memorial and Museum to pay his respects to the victims of the attacks, the Speaker would have been wise to have also met with 9/11 responders, survivors, and their families," the group statement read. "If he had, he would have learned that thousands of responders, who came to the aid of fellow Americans, and indeed the nation, are still ill…. Some are dying from that exposure now almost 14 years later. Congress … recognized this and did something about it about 5 years ago."
"Of course our hope is that Congress will reauthorize the Zadroga Act so that all 9/11 responders and survivors receive the benefits they deserve and that Speaker Boehner's objections do not adversely impact these survivors' benefits," said Mr. McCauley. "Reauthorization is crucial, especially considering that many 9/11 illnesses may not present for a number of years."
Parker Waichman has actively worked toward passage of the Zadroga Act, which was passed in 2010. The firm's actions include, in part, lobbying efforts and trips to the nation's capital led by Mr. McCauley, often, along with the firm's clients. Mr. McCauley and Parker Waichman continue to support the Zadroga Act, continue to support efforts to extend the Act's timeline and its scope, and are opposed to the Speaker's objections on these very crucial and needed benefits.
Parker Waichman LLP, which worked, and continues to fight, alongside Ground Zero first responders, survivors, and their advocates, to help ensure passage of the Zadroga Act and its amendments, vows to continue its efforts to safeguard these heroes and ensure that they receive all of the Zadroga Act compensation they deserve. If you or a loved one are eligible for compensation under the Zadroga Act, and would like assistance with your claim, please visit Parker Waichman's website or call 1-800-LAW-INFO (1-800-529-4636).