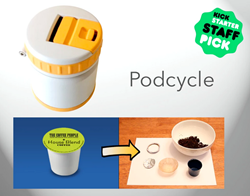 Sudbury, ON (PRWEB) May 08, 2015
Andrew Grantham, creator of some of the most successful viral videos of all time – 400,000,000+ online views including the #1 2011 hit "Ultimate Dog Tease" – has launched a Kickstarter campaign for Podcycle, a product that disassembles single use coffee pods, like K-Cups®, allowing the recycling and composting of their plastic, paper, foil, and coffee components.
"In 2013 alone, nearly 10 billion K-Cups® from Keurig® brewing systems were sent to landfill – enough to circle the earth more than 10 times, according to Mother Jones, 2014(. Although most single use coffee pods are made from recoverable materials, the manner in which they are bound together makes them unrecyclable. With Podcycle, Grantham hopes to divert billions of pod waste from the landfills.
"Single-use coffee pods have been around for over a decade, are increasing in popularity, and Keurig Green Mountain, the manufacturer of one of the most popular pods, the K-Cup®, has stated that theirs will not be made recyclable until the year 2020 (http://www.keuriggreenmountain.com). That represents a spectacular amount of waste," said Grantham. "There is no magical solution waiting around the corner, and no amount of telling people to avoid these things will have any effect. We need to mitigate, we need to do so now, and the only way to accomplish that is to complement the convenience of the single use pods with something equally convenient. Other products, such as refillable brew baskets, have not gained a following because they introduce an inconvenience into the process. Podcycle does not interfere with the use of Keurig® systems at all, so morning routines can stay intact. It simply offers an easy way to atone for your morning sins by recycling in the afternoon."
Podcycle itself, which is patent pending, is the only product specifically designed to separate all the single use pod materials. It consists of a small receptacle with a rotating lid incorporating a cutting wheel. A used pod is inserted, the unit is closed, and the lid is rotated, separating the foil, plastic, and paper filter containing the coffee. All materials are then ready for recycling and composting. The only landfill waste remaining is the small ring that had previously bound the components together.
Podcycle is already in its ninth prototype revision. The Kickstarter campaign hopes to reach a target of $60,000 CAD (approx. $49,000 USD) in order to break even on the startup costs of manufacturing. Podcycle currently has an entry level price of $22 CAD ($18 USD). The campaign is required to reach its goal by May 15, 2015 in order to be a success and for the product to see the light of day. The campaign page contains details on budget, timeline, and the history of the project, as well as a solution for those living in areas where #7 plastic is not accepted for recycling.
Keurig® and K-Cup® are registered trademarks of Keurig Green Mountain. Podcycle is not affiliated with Keurig Green Mountain.
Facebook: facebook.com/podcycle
Twitter: twitter.com/podcycle
http://www.podcycle.com