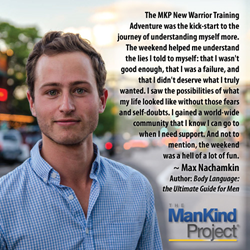 MKP has quickly become one of the cornerstones of who I am and how I move through the world today. ~ Wentworth Miller
Atlanta, GA (PRWEB) May 08, 2015
"Most men have no experience with a healthy masculine community," says Boysen Hodgson, the Communications Director for the ManKind Project USA. "We offer training programs and community to support men to discover and live their most powerful potential. It's a new way of relating, healing, succeeding and being for 21st century men."
The ManKind Project's New Warrior Training Adventure (NWTA) gets strong responses from participants. Will Walters, a columnist for the Fort Collins Coloradoan, wrote that he "showed up . . . with my [Ph.D. in calm skepticism] in one hand and my 'bull' meter on red alert in the other. . . . I came away more in touch with my heart and my desire to live in integrity with who I am and what I'm doing with my life."
Jim James of the band My Morning Jacket said, "I went on one of those retreats because I was so intrigued. It was ... amazing."
Actor and Writer Wentworth Miller (Prison Break, the Flash), in a testimonial to the ManKind Project said, "MKP has quickly become one of the cornerstones of who I am and how I move through the world today."
Now entering its fourth decade, the Training is a modern rite of passage, or initiation, experience for adult men that roughly follows a narrative pattern called the "Hero's Journey." It is skillfully designed to support all kinds of men from diverse backgrounds and all levels of experience with personal growth work.
The New Warrior Training Adventure invites men to step abruptly outside their comfort zone and engage face to face in a challenging set of processes which invite them into new levels of relationship with self and with other men. The weekend ends in celebration of the unique gifts that each man brings and in the recognition of the positive impact his gifts might bring to the world. Many men describe the training as one of the most powerful experiences of their lives.
After the training, men are invited to join a community of men by participating in ongoing peer support men's groups and additional training opportunities. ManKind Project men's groups support men to build skills and strategies for overcoming problems, improving relationships, and fully living their personal sense of purpose in the world.
Learn more about the New Warrior Training Adventure and register for the training at NewWarriorTraining.org.
The ManKind Project USA is a nonprofit [501 (c)(3)] charitable organization that conducts challenging and highly rewarding programs for men at every stage of life. The ManKind Project supports a global network of peer-facilitated men's groups where men mentor men through the passages of their lives. The ManKind Project empowers men to missions of service, supporting men to make a difference in the lives of men, women, and children around the world. Their flagship training, described by many as the most powerful men's training available, is the New Warrior Training Adventure. The ManKind Project (MKP) is not affiliated with any religious practice or political party.