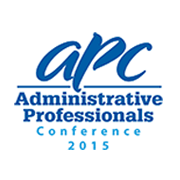 The Administrative Professionals Conference is the largest and most significant annual training event for Administrative Professionals and Executive Assistants
Portland, ME (PRWEB) May 12, 2015
The American Society of Administrative Professionals (ASAP), the leading provider of live and on-line training and professional development for Administrative Professionals and Executive Assistants, today unveiled the program for its 23rd Annual Administrative Professionals Conference. The Conference takes place this October at the Gaylord Texan Resort & Convention Center in Grapevine , Texas.
The 4-day program, 75+ training sessions, workshops, keynotes and certification are detailed in an on-line conference brochure. It highlights high-level EA's from corporations such as Shutterfly, South by Southwest Interactive Festival, Spanx, and Cisco Systems who are serving as panelists on the popular WOW Panel, on-site Microsoft Office Specialist Certification (MOS) testing, a technology help desk, attendee-driven MeetUps, and a complimentary online training course bundle that extends their training beyond the Conference.
"The Administrative Professionals Conference is the largest and most significant annual training event for Administrative Professionals and Executive Assistants," said Judy Geller, Executive Director of ASAP and APC Conference Chair. "It exposes them to a level of training, networking, and energy that can't be replicated via in-house corporate training or on-demand programs. Participants thrive in the atmosphere of professionalism and learning as they join hundreds of other motivated assistants at every stage in their careers."
The Conference brochure also includes new program details for the APC's Executive Assistants' Summit. Designed to meet the unique training and peer network development needs of Executive Assistants who work directly with senior executives, participation in the Executive Assistants' Summit is by application only. The EA Summit runs concurrently with the APC.
The 2015 APC will also present the American Society of Administrative Professionals' 1st Annual "Eureka!" Award at the Conference; the Award will recognize outstanding achievement by an administrative professional who has conceived and executed an initiative that produced a substantive and innovative contribution to their organization. The Award will be presented on the last day of the APC, Wednesday, October 7 during the closing keynote address.
To register for the APC or to obtain additional information, call 1-800-873-1272 or email: info(at)divcom(dot)com
Sponsorship and Exhibition opportunities are available. For more information, contact: Patrice Hampson, National Sales Manager at: 207.842.5456 or email: phampson(at)divcom(dot)com
About the Administrative Professionals Conference (APC)
The APC is produced by the American Society of Administrative Professionals (ASAP), the largest free association and resource center for administrative professionals. Celebrating its 10th year anniversary in 2015, ASAP has grown its membership to 55,000 admins from around the world, and gives its members access to over 450 online training courses, live and on-demand webinars, a monthly newsletter, articles and features geared for admins, and a prestigious admin certificate program. ASAP is a business unit within Diversified Communications, a global organization operating on four continents and a major independent producer of events and media worldwide. For more information, visit http://www.asaporg.com.