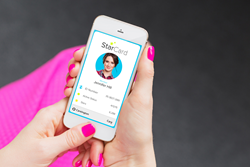 Beam is making the economics of utilizing preventative oral health services a no brainer for anyone
Columbus, OH (PRWEB) May 19, 2015
Beam Technologies, creator of the Beam connected electric toothbrush, today announced the launch of its Beam StarCard™, the first ever digital dental savings card. Dental savings cards offer an affordable alternative for 100 million Americans without dental insurance, providing 20-50% off on a full range of dental procedures.
Users of the Beam StarCard pay $99 for a full year of coverage, a free Beam Brush, and access to a national network of over 95,000 dentists in 47 states that have partnered to offer discounted rates. The digital card is accessible on the Beam app, and there are no additional fees, waiting periods, annual maximums, or clumsy reimbursement processes. The digital card is accessible on the Beam app. All a user needs to do is show it at a participating dentist.
While a discount card is not insurance, it creates a quick and simple way to save at the dentist. Pricing and savings are transparently calculated and members only pay an annual fee. Beam StarCard can be paired with Beam's connected toothbrush to track, reward, and promote good brushing and oral hygiene habits.
"Beam's StarCard offers a dental benefit product with a totally new distribution model —one that marries daily oral hygiene behavior with mobile technology to make going to the dentist much easier and more affordable," said Alex Frommeyer, co-Founder and CEO of Beam Technologies.
Find out more at http://beam.dental.
About Beam
Beam Technologies started with a connected toothbrush aimed at making quality brushing enjoyable and affordable. Beam is expanding this model to the dental health care industry through discount plans to help anyone have a happier, healthier smile. Headquartered in Columbus, OH.
Louisa Lee
Business Development, Beam Technologies