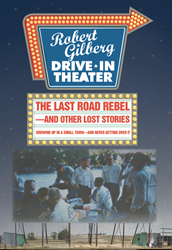 I'm still a car guy, and while my musical tastes are now much broader, I still love hearing Elvis; I always will. Those days have never been far behind me
SAN DIEGO (PRWEB) May 08, 2015
As a teenager, residents of New Bremen, Ohio might have viewed Robert Gilberg as a shiftless individual—until you got him behind the wheel of his hot Ford convertible; then he would shift like a maniac.
An influential engineer originally from the Midwest, Gilberg was instrumental during the tech boom of the 1980s and 90s when he helped design new lynchpin technology, winning an Emmy Award and eventually going on to retire as an associate vice-president at Motorola Broadband.
His memoir, "The Last Road Rebel—and Other Lost Stories," describes his transition from a teenager with little motivation to a passionate professional engineer. However lacking he was in motivation for high school, Gilberg channeled his energy into his hometown's gang of hot rod car enthusiasts, participating in club events and hoping to perform good deeds on the roads surrounding his hometown.
"Most people wouldn't imagine a simple chance meeting with a beautiful girl would be the turning point to getting a young boy's act together," Gilberg said. "In this case—along with realizing some bad choices I'd made—it was. She made me want to find a better path than the one I could see myself heading down."
Gilberg's memoir delves deeply into the car culture of the 50s and 60s Midwest; his experiences with music and the counterculture; and his adventure in professional engineering after meeting the girl of his dreams.
"I'm still a car guy, and while my musical tastes are now much broader, I still love hearing Elvis; I always will. Those days have never been far behind me," Gilberg said.
For more information, please visit robertgilberg.com or thelastroadrebel.wordpress.com.
"The Last Road Rebel—and Other Lost Stories"
By Robert Gilberg
ISBN: 978-1-4917-5723-9
Available in softcover, hardcover, e-book
Available on Amazon, Barnes & Noble and iUniverse
About the author
Robert Gilberg grew up in New Bremen, Ohio. After leaving, he earned an engineering degree from Ohio State University and is now retired from thirty-five years in the high-technology world of integrated circuit design, computers and digital television. Gilberg lives in his adopted homeland of Southern California with his wife, Nikki.
# # #
**FOR IMMEDIATE RELEASE**
For review copies or interview requests, contact:
Daniel Pearson
317.602.7137| dpearson(at)bohlsengroup(dot)com