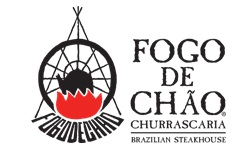 "Junior Achievement is an incredibly valuable organization which provides the entrepreneurs of tomorrow with the support and skillsets necessary for success." - Larry Johnson, CEO of Fogo de Chão
Dallas, TX (PRWEB) May 08, 2015
During the month of April, Fogo de Chão, known for its award-winning dining experience, partnered once again with Junior Achievement, the world's largest organization dedicated to inspiring and preparing young people to succeed in a global economy. Together, they raised $93,000 nationwide, which will provide funding for nearly 2,200 students around the country to participate in financial literacy education. For the fourth year running, Fogo de Chão Brazilian Steakhouse has hosted dining events at its locations across the nation and is proud to announce a total donation to local Junior Achievement operations of $309,000 since 2012.
Fogo de Chão, known for its authentic Southern Brazilian cuisine, offered a charitable dinner package at 23 U.S. locations during the month of April – Financial Literacy Month. Proceeds benefited the Junior Achievement chapters in each of the cities to raise awareness around the need for youth financial literacy education and to support broader implementation of Junior Achievement programs.
The Fogo de Chão restaurants that participated in this initiative for Financial Literacy Month include: Dallas, Texas; Houston, Texas; Atlanta, Georgia; Chicago, Illinois; Beverly Hills, California; Philadelphia, Pennsylvania; Minneapolis, Minnesota; Baltimore, Maryland; Austin, Texas; Indianapolis, Indiana; Miami, Florida; Scottsdale, Arizona; Kansas City, Missouri; Denver, Colorado; San Antonio, Texas; Las Vegas, Nevada; Orlando, Florida; Boston, Massachusetts; San Diego, California; Rosemont, Illinois; New York, New York; and Portland, Oregon. Fogo is thankful for the support of its loyal guests and is proud to report that many of the events were sold out.
"Junior Achievement is grateful for the support of Fogo de Chão restaurants which allows JA areas to expand access to our financial literacy programs across the nation," said Jack E. Kosakowski, president and CEO of Junior Achievement USA®.
In addition to the combined $93,000 raised through the fundraising events, Fogo de Chão also donated thousands in promotional cards to benefit local Junior Achievement chapters' initiatives throughout year. "Junior Achievement is an incredibly valuable organization which provides the entrepreneurs of tomorrow with the support and skillsets necessary for success," said Larry Johnson, CEO of Fogo de Chão. "At Fogo, we share JA's vision and are thrilled about the opportunity to inspire youth."
For more information on Junior Achievement, please visit the website at http://www.ja.org.
About Junior Achievement USA® (JA)
Junior Achievement is the world's largest organization dedicated to giving young people the knowledge and skills they need to own their economic success, plan for their future, and make smart academic and economic choices. JA programs are delivered by corporate and community volunteers, and provide relevant, hands-on experiences that give students from kindergarten through high school knowledge and skills in financial literacy, work readiness and entrepreneurship. Today, JA reaches more than 4.5 million students per year in 115 markets across the United States, with an additional 5.8 million students served by operations in 120 other countries worldwide. Junior Achievement USA is a member of JA Worldwide. Visit http://www.ja.org for more information.
About Fogo de Chão
Fogo de Chão® Churrascaria - Brazilian Steakhouse was founded in 1979 in Porto Alegre, Brazil and expanded into the U.S. in 1997. There are currently 37 locations throughout Brazil, the United States, and Mexico, with recent openings in Mexico City; San Juan, Puerto Rico; Downtown Los Angeles; Portland, Oregon; and the Barra neighborhood of Rio de Janeiro. Fogo.com.
The Fogo de Chão dining experience is based on the centuries-old Gaucho tradition known as churrasco, the Gaucho way of roasting meats over open pits of fire. This authentic Southern Brazilian steakhouse features an extensive variety of delectable, fire-roasted meats that are specially carved to each guest's preference. Additionally, Fogo offers a colorful gourmet Market Table with an abundance of fresh and seasonal choices, and Southern Brazilian side dishes are served family style. A tempting dessert menu, creative and classic cocktails, and an award-winning wine list complement the dining experience.
Check out "The Gaucho Way," a documentary-style video that is shot through the eyes of real Fogo de Chão Brazilian gauchos and explores the restaurant's deep cultural roots in Southern Brazil (http://bit.ly/1jMHAtm).