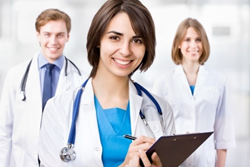 It's conceivable that with much more research we could develop ways to use light to relieve pain without a patient to take a pain-killing drug with side effects
Miami, FL (PRWEB) May 14, 2015
Researchers from the Washington University School of Medicine have discovered light is able to influence the body's ability to manage pain, according to the University Herald on May 4th. The University Herald quotes the first author of the study, Edward R. Siuda, "It's conceivable that with much more research we could develop ways to use light to relieve pain without a patient to take a pain-killing drug with side effects," Some of those side effects include the depression of the central nervous system (overdose), constipation, and chronic addiction. Researchers will explore the most effective means to employ the use of light to diminish opiate receptors response to pain. One researcher noted exploring pain management by manipulating light are giving researchers new insight into the ways opiate receptors work; as they are also associated with reward centers and other functions within the body. Harbor Village Detox is an addiction treatment center specializing in inpatient medical detox in Florida. The drug and alcohol treatment center in Florida asserts exploring alternative methods of treating pain without the presence of addictive substances will revolutionize pain management.
The researchers are attempting to combat the inherent tolerance which builds up with traditional prescription medications. The hope is to find alternatives to addiction medications and produce effective medications without side effects. Harbor Village Detox is hopeful in looking into alternative means to control pain as a way to mitigate the availability of addictive prescription medications to patients. An associate comments, "Controlling pain with light initially sounds bizarre, but if there is research behind it, then I'm all for exploring every avenue at our disposal to prevent addiction and overdose deaths. As a professional in the addiction field, it will be interesting to witness the induction of new techniques deviating from our traditional Western medication approach. Maybe it's time to pull away from the medications causing addiction; although, I don't think it's smart to discredit medications which are helping to combat addiction."
Harbor Village Detox is a drug detox center in Florida specializing in inpatient medical detox. The facility couples holistic healing with traditional means of Western medication. The facility encourages patients to participate in meditation and yoga during their drug and alcohol detox treatment. Patients recover in a 24 hour medically monitored facility and are provided with private rooms, gourmet meals, and access to full spa and salon amenities.
During treatment patients are provided with intensive cognitive behavioral therapy and group therapy, as early as detox treatment- which is atypical of most drug detox facilities in Florida. Patients are encouraged to engage in facility-wide activities during their treatment including weekly barbecues and gaming parties.
For more information about the inpatient medical detox center in Florida visit Harbor Village Detox's website at http://harborvillageflorida.com/ or call (855)767-8285 directly.