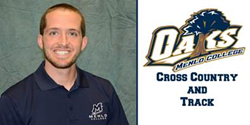 I look forward to contributing to [the Menlo College] community, and recruiting athletes eager to thrive in Menlo's personalized approach to the college experience
Atherton, CA (PRWEB) May 11, 2015
Menlo College Athletics is set to bolster its varsity sport offerings for the 2015-16 year with the addition of Men's and Women's Cross Country and Track. With the addition of these sports, Menlo brings its total sport offerings to 15 next year.
"Adding Cross Country and Track further aligns our department with the Golden State Athletic Conference [GSAC] and the championship sports they offer" said Menlo College Director of Athletics Keith Spataro." The teams in our new conference have seen tremendous success in both of these sports and we look forward to competing with them."
Heading the Cross Country and Track programs will be veteran coach Dan Noel. Noel comes to Menlo College after a season as an assistant coach at San Francisco State University where he was tasked with training SFSU's hurdlers. Prior to joining the staff at San Francisco State University, Noel served as the assistant track and cross country coach for Humboldt State University.
"I am honored to join a college and athletics department with a reputation as outstanding as Menlo's, and excited to build on its strong history of excellence in track and cross country," said Noel. "From the moment I walked on campus, I was struck by the genuine sense of community shared by the students, faculty, and staff. I look forward to contributing to that community, and recruiting athletes eager to thrive in Menlo's personalized approach to the college experience."
"We're excited to have Dan aboard to bring Cross Country and Track back to Menlo College. I expect he will lead these programs to great things," said Spataro.
Track has a long and triumphant history at Menlo College, as it was one of the original four sports sponsored during the 1929-30 academic year. Seventeen student-athletes have earned a place in the College's Hall of Fame as a result of their success in the sport. Bill Toomey, won a gold medal in the Decathalon at the 1968 Mexico City games; Rink Babka competed for the Oaks during the 1955 season and won Silver in discus at the 1960 Rome games.
About Menlo College
Menlo College was established in 1927 in Atherton, California as a small, private, non-profit school that focuses on business education with a strong liberal arts emphasis. Located in the heart of Silicon Valley thirty minutes south of San Francisco, Menlo has been named among the "Best Colleges in the West" by The Princeton Review six years running and a U.S. News "Best Regional College" for the last four years. http://www.menlo.edu