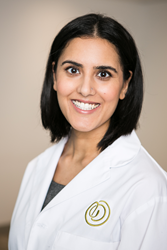 What makes practicing fertility medicine so exciting is how rapidly the technology is changing
Vancouver, BC (PRWEB) May 09, 2015
Olive Fertility Centre is delighted to announce that Dr Gunu Warraich has joined the practice, bringing the number of reproductive specialists at Olive Fertility up to five. Dr Warriach will be practicing out of the new Olive Fertility clinic at City Centre in Surrey.
"We are very pleased to welcome Dr Warraich to the Surrey clinic and are excited that she is fluent in Punjabi as well as English," says Olive Fertility co-director and co-founder Dr. Beth Taylor. "Patients from Surrey and the Valley will now have more convenient access to excellent fertility care."
Dr Warraich is thrilled to be joining one of the largest and most respected IVF clinics in Canada. "Olive's lab is second to none," says Dr Warraich. "It's great to be part of a team who is always striving for excellence and is committed to providing truly individualized patient-centered care."
After graduating with a BSc in biochemistry and biology from the University of Winnipeg, Dr Warraich completed her MD degree and a residency in obstetrics/gynecology at the University of Manitoba. She went on to do her fellowship in Reproductive Endocrinology and Infertility at the University of Ottawa.
"What makes practicing fertility medicine so exciting is how rapidly the technology is changing and that these advances are offering more hope for patients struggling to have a family," says Dr Warraich.
Dr Warraich has been actively involved in fertility research, and she presented at the annual Canadian Fertility and Sterility Association conference on her research on the fertility drug letrozole and ovulation induction, superovulation, and IUI cycles.
Dr Warraich will be presenting a free public talk Tuesday, May 19th at Surrey City Centre Library as part of Canadian Infertility Awareness Week:
"Your Path to Pregnancy. Learn how you can maximize your chance of conceiving naturally or with IVF
With Fertility Experts Dr Gunu Warraich (Reproductive Endocrinologist), Dr Lorne Brown (Fertility Acupuncturist), Dr Kali Macisaac (Naturopathic Physician).
Tuesday May 19th | 6:30 pm to 8:30pm
Surrey City Centre Library
The talk is free but space is limited. To reserve your spot or for more information go to acubalance.ca"
Olive Fertility Centre, http://www.olivefertility.com, is one of Canada's largest fertility clinics, offering an advanced IVF lab, personal care teams and innovative programs that include the EmbryoScope, comprehensive chromosome screening (CCS), egg freezing, and prenatal NIPT testing.