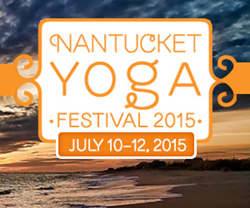 While there may be other yoga festivals, there is only one Nantucket.
Nantucket, MA (PRWEB) May 11, 2015
Dharma Yoga Nantucket today announces the fourth annual Nantucket Yoga Festival will be held July 10-12, 2015 on Nantucket, MA. Nantucket was recently named the number one island in the world by National Geographic.
Offering classes, workshops, and a marketplace open to the public, the festival will feature more than 20 internationally acclaimed instructors.
"The Nantucket Yoga Festival brings together world-class yoga instructors, wellness experts, and healthy living guides, for one transformational weekend." promises Joann Burnham, festival producer and director of Dharma Yoga Nantucket. "While there may be other yoga festivals, there is only one Nantucket. The island of Nantucket has consistently inspired conscious living, the independent spirit and creative collaboration.
"My hope is that by coming together to learn from this amazing panel of instructors, participants will be inspired to make positive changes in their life, in their community and ultimately, in the world," added Burnham.
This year's featured instructors are Beryl Bender Birch and Anand Mehrotra.
Beryl Bender Birch is the Founder of The Hard & The Soft Yoga Institute and The Give Back Yoga Foundation and has been studying and teaching yoga and meditation for over 40 years. She is the author of four books on yoga, including the best selling Power Yoga.
Anand Mehrotra is a visionary master teacher, community and thought leader, and conscious entrepreneur. Born and raised in Rishikesh, India – the birthplace of yoga – Anand combines the ancient wisdom of his upbringing with a lighthearted rebelliousness to support the transcendence of the individual and the collective. He is the founder of Sattva Yoga in India.
Participating yogis include Michelle Dortignac creator of Unnata Aerial Yoga, Claire Hartley owner of Rising Lotus Yoga in Los Angeles, Lindel Hart of Hart Yoga, Yogi Varuna, J. Brown and Boston favorite David Vendetti co-owner of South Boston Yoga.
Designed to set the tone for the weekend, the opening night celebration on Friday July 10h at The Westmoor Club, will feature Max Strom. Max is the best-selling author of A Life Worth Breathing and the newly released There is No App For Happiness.
Opening night will also feature a breathtaking aerial yoga performance by Michelle Dortignac. The evening will close with a Tibetan Singing Bowl Healing Ceremony by master practitioner Pamela Lancaster of Awakening the Divine Self. Pamela's talents were recently featured on the Dr. Oz show. Dinner will feature local and organic ingredients lovingly prepared by chef Bruce Sacino paired with fresh pressed juices and wine from Nantucket's own Cisco Brewery.
Festival workshops will take place at Bartlett's Ocean View Farm, Nantucket Island's oldest and largest family-owned farm. The classes will be held under tent, amidst the over 100 acres of flowers, herbs and vegetables, offering ocean views and fresh salt air, for a truly one-of-a kind experience.
A variety of complimentary community classes will also be offered on Saturday and Sunday to provide an opportunity for everyone to take part in the festival.
Also offered at no charge, the festival marketplace will feature artists, clothing, jeweler, yoga wear and a wellness area offering massage, Reiki and Ayurvedic pulse diagnosis.
Tickets are available for purchase on line. For more information or to take advantage of discounted advanced registration rates, visit the festival website at http://www.nantucketyogafestival.com. The price for a full Festival Pass (which includes the opening night celebration) is $350; and a one-day pass for Saturday or Sunday is $175.
Sponsors for the Nantucket Yoga Festival include locally: N Magazine, Cape Air /Nantucket Airlines, The Westmoor Club, as well Athleta, Raw Revolution, Balance Water, and Bai.
Additional Social Media: Facebook