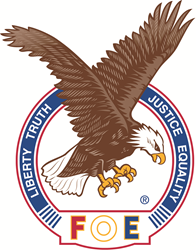 Being a mom makes you far more compassionate. You have more empathy for people, more love.
Los Angeles, CA (PRWEB) May 09, 2015
Angelina Jolie tops the list as the most admired mother in the United States according to a poll commissioned by the Fraternal Order of Eagles in honor of the 101st anniversary of the national observance of Mother's Day. 31 percent of the 800 registered voters polled picked Ms. Jolie from a list of fifteen "real life moms." Placing a close second was Michelle Obama at 30%, followed by Kate, Dutchess of Cambridge, and Barbara Bush (both at 29%). Participants could select more than one choice on a list. The poll was conducted online by Luntz Global and has a margin of error of 3.5%.
The Fraternal Order of Eagles (FOE) played a historic role in the establishment of a national celebration for Mother's Day. The first public call to action was made at a FOE national convention in 1904 when Frank Hering, a Notre Dame football coach, athletic director and professor, later a FOE grand worthy president, made an impassioned plea. He urged the Eagles to honor "the great things of the world that have been achieved by mothers' love and devotion" and suggested that one Sunday each year be dedicated for that purpose. Thanks to the organization's grassroots efforts and the lobbying of another Mother's Day crusader, Anna Jarvis, President Wilson signed the congressional bill in 1914 establishing the national day honoring mothers on the second Sunday in May.
In their continuing effort to honor mothers, the FOE has created a Mother's Day video montage narrated by Florence Henderson.
Florence Henderson, who always tops the poll lists of most admired TV moms from "The Brady Bunch," talked about what is most important to her about being a mother on this 101st observance: "Being a mom makes you far more compassionate. You have more empathy for people, more love." When asked what she is the most proud of in her career, Florence always replies that her career is just one part of her life but that her four children and five grandchildren rise above all.
Established in 1898, the non-profit Fraternal Order of Eagles is made up of 800,000 members based in over 1500 chapters ("aeries") and 1300 women's auxiliaries. In addition their concerns with honoring Mother's Days, the FOE has played a prominent role on a broad array of social and philanthropic causes, including helping launch Social Security and Medicare and ensuring legal protection against job discrimination based on age. The organization raises in excess of $100 million each year to benefit local communities and charities and support medical research and treatment on a host of conditions. Most recently, the organization established and endowed The Fraternal Order of Eagles Diabetes Research Center at the University of Iowa, a state-of-the-art medical research facility dedicated to the prevention and potential eradication of diabetes.
Luntz Global is one of America's best-known and most respected public opinion and strategic communications firms.
For more information, visit http://www.foe.com
HD Mother's Day video link for broadcast: http://youtu.be/SAM1WojeQO4